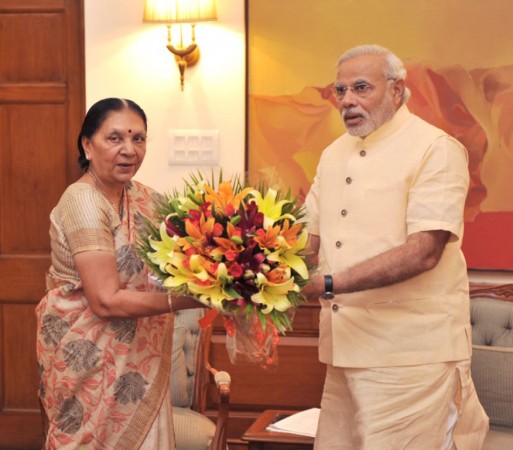 Gujarat Chief Minister Anandiben Patel is set to replace her government's helicopter with a new one that costs ₹100 crore.
The current helicopter's lifespan of 15 years is to end this December. The state government will soon call for global tenders to for the new helicopter.
According to reports, a high-level technical panel has recommended the Chief Minister to purchase a 12-to-15 seater modern aircraft with all safety standards and latest facilities. The Director General of Civil Aviation (DGCA) at the Centre has also advised the CM to replace the helicopter soon.
The current helicopter is a nine-seater Super King Air Beechcraft 200, bought for ₹19.12 crore, when Keshubhai Patel was the Chief Minister. Safety modifications were made to the helicopter after late Andhra Pradesh Chief Minister Rajasekhar Reddy was killed in a helicopter crash in September 2009.
In fact, the current helicopter was not being used by the Chief Minister and other VVIPs of late as it was facing technical snags, say reports.
Last year, the state government had spent ₹17.36 crore to hire private aircraft and helicopters for air travel of the CM and other VVIPs as the available aircraft's services were insufficient. Hence, buying a new chopper is inevitalbe, says sources in the government.
Gujarat government has allocated ₹1 crore to commence the process to invite global tenders to buy a new state aircraft.
Treated sewage water to revive Sabarmati
Meanwhile, the Ahmedabad Municipal Corporation (AMC) has proposed a ₹250-crore project to flow in treated sewage water of Ahmedabad into the Sabarmati river.
Once the Sardar Sarovar Dam is completed, water from the Narmada river will not flow into the Sabarmati forever. Hence to revive Sabarmati, the AMC has taken up the project to flow in treated sewage water.
AMC is to seek the state government's approval to make sure that 110 million litres of quality treated water replaces Narmada river water into the Sabarmati. The project is estimated to take three years to complete. When the project comes into being, it supports aquatic life in the Sabarmati and irrigates lands in 43 villages downstream.
Presently, many farmers use toxic waters of the Sabarmati to grow vegetables but when AMC's project is completed, they will get treated sewage water for cultivation.
According to Sabarmati Riverfront Development Corporation Limited (SRFDCL), it costs ₹12 per 1,000 literes to treat the city's sewage into purified water. For AMC, it now costs only ₹1.60 per 1,000 liters of Narmada waters to flow into the Sabarmati. Hence, the cost of the water will matter for the civic body.
The AMC has approached the state government to fund 60 percent of the project. The AMC claims that this is going to be the first such project, where highly treated sewage water will be used for the revival of a river, where the water will be used for bathing and irrigation.