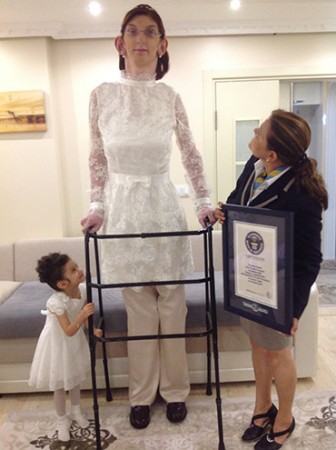 A 17-year-old from Turkey has been awarded the Guinness World Records title of Tallest Teenager (female).
Rumeysa Gelgi, who has a height of 213.6 cm (7ft 0.09 in), is an 11th grader. She received the award in a special presentation in her hometown of Safranbolu, Karabük on Thursday.
Guinness World Records officials carried out tests at her residence, before conferring her with the award.
"It's one of my biggest dreams to be awarded with this record. Being a record-holder is a very amazing thing. I know that only the special people can make it and I know I'm one of them now," Gelgi noted, while accepting the title.
Guinness World Records released an official statement, announcing the award to Gelgi.
Gilgi suffers from Weaver's syndrome, a rare genetic disorder that causes rapid growth. In addition to her exceptional height, Rumeysa's hands measure 24.5 cm and feet 30.5 cm. The teen lives with her parents and siblings, who are all of normal height.
Guinness World Records noted that the teen has shown courage in handling her condition.
The title for the Tallest Living Person is also held by another Turk - Sultan Kösen, who measures 251 cm (8ft 3 in).
The Tallest Ever Female Teenager is Canadian Anna Haining Swan (b. 6 August 1846 - d. 5 August 1888), who reached a height of 241.3 cm (7ft 11 in). The Tallest Man on record is American Robert Wadlow who measured 272cm (8ft 11.1 in) in 1940.