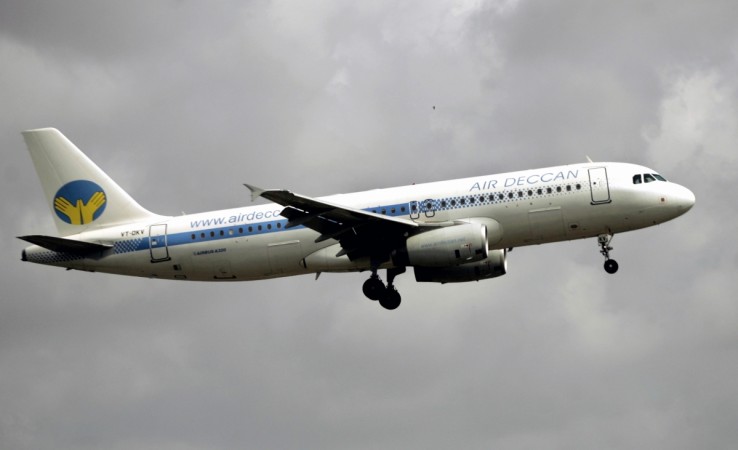 While the Indian aviation market is already flooded with budget carriers such as IndiGo, GoAir, and SpiceJet to name a few, flyers are set to have one more choice December-end onwards. With this, it's also time for other carriers to brace up for some competition. Interestingly, this player is not really new to the market. Remember Air Deccan? Yes, the carrier that was the first to introduce budget fares is back in the game and will start operation from December 22.
The airline was founded by GR Gopinath in 2003, and while its first flight did not really bring out the desired results, it changed the entire landscape of the aviation industry.
The founder is now clearly thrilled about restarting the operations. "This will be my last Udan and then I will hang up my boots," Gopinath told Mint. The well-known budget carrier will retain its tagline "Simplify," and carry a logo by late cartoonist RK Laxman.
Air Deccan had merged with Kingfisher Airlines in 2008, but the carrier owned by Vijay Mallya was grounded due to financial woes and Air Deccan too went down with it. Now Air Deccan is set to make a grand re-entry with bases in Mumbai, Delhi, Kolkata and Shillong and will fly on shorter routes close to these locations.
Adding to the cheer, Gopinath also told Mint that some customers will be able to fly for Re. 1, a concept that came up because of Air Deccan. "Some of the initial lucky people will be able to get Re1 fares also," Gopinath said. And even if you are not able to get your hands on these fares, you will not have to shell out massive amounts as Air Deccan estimates tickets to be priced at about Rs 1,400 for a 40-minute flight.
The first Air Deccan flight will fly to Mumbai from Nashik, and in the new year, Gopinath plans to expand its reach to cities such as Shimla, Kullu, Agra, Dehradun, Pantnagar and Ludhiana.
Apart from these cities, the carrier will also spread its wings to the eastern zone with two planes in Kolkata that will connect the city with Jamshedpur, Rourkela, Durgapur, Bagdogra, Cooch Behar, and Agartala. The flights from Shillong will connect Imphal, Dimapur, Aizawl and Agartala.
Air Deccan has got a new lease of life, thanks to the government's Udan scheme, which aims to connect smaller towns for about Rs 2,500 for a one-hour journey.