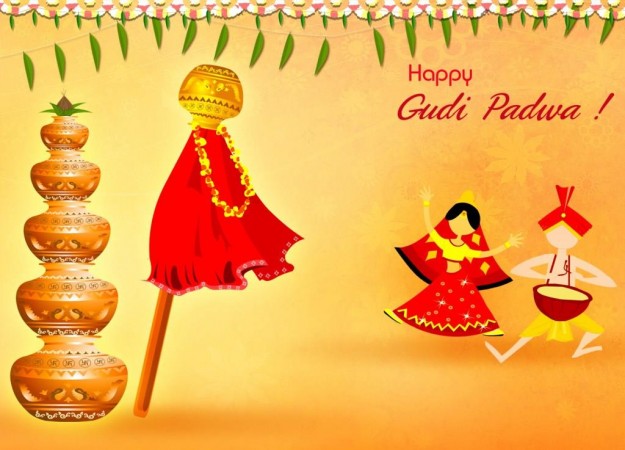 India is set to begin the New Year celebration, according to the Hindu calendar, from April 8 of this year. Maharashtrians and Hindu Konkanis celebrate Gudi Padwa, while Sindhis celebrate Cheti Chand, and people in Andhra Pradesh and Karnataka rejoice Ugadi or Yugadi.
Celebrated on the first day of the Chaitra month, on Gudi Padwa, people wear new clothes and decorate their houses with colorful rangoli patterns. A silk banner is raised and worshipped, and people hang "gudis" on their windows on this day to celebrate Mother Nature's bounty. A "gudi" is a decorated pole with a brass or a silver vessel placed on it.
Greetings are exchanged and sweets like Kaju Kothimbir Vadi, Basundi, Karanji, Sabudana Ladoo and Modak are prepared. Similarly, people in Karnataka prepare a special dish on this day known as Obbattu or Holige. Another dish, which consists of a specific mixture of six tastes called Ugadi Pachhadi, is also prepared and distributed.
Sindhis' New Year Cheti Chand falls on the first day of the month of Chaitra, also known as "Chet" in Sindhi. This day is observed as the birthday of Jhulelal, the patron saint of the Sindhis. On this day, Sindhis worship Varuna, the water god and observe a number of rituals followed by delicious food and devotional music.
Check out some wishes and picture greetings to send to your family and friends.
Gudi Padwa greetings
Celebrate the auspicious occasion of Gudi Padwa Amidst Fanfare & Religious fervour. May the day bestow on you & your family members...Good Luck - Health - Happy Times!
Here's wishing that my rangoli adds more colors to your spring, just the way you do to our friendship! wish you a bright and colourful Gudi Padwa!
May each day of this New Year be as bright and beautiful as this Rangoli... Wishing you a very. Happy Gudi Padwa!
This Gudi Padwa, May you be blessed with good fortune as long as Ganeshji's trunk, wealth and prosperity as big as his stomach, happiness as sweet as his ladoos and may your trouble be as small as his mouse. Happy Gudi Padwa!
Happy Gudi Padwa. Fortunate is the one who has learned to admire, but not to envy. Good wishes for a joyous Gudi Padwa and a happy New Year wish a plenty of peace and prosperity.
Cheti Chand greetings
May this Cheti Chand bring you new spirit, new beginning and new prosperity, Wishing you Happy Cheti Chand
May the divine power of Jhulelal be helpful to your family and to your dear ones in this new start of this new year. Happy Cheti Chand.
Cheti Chand Ki Hardhik Subhechcha, Bato Gud Dhani Bolo Subh Vani, Vani Cheti Chand ki Subh Kamnayeh
With the start of new Sindhi year, May you smile always, May you get success in all your endeavors, May you receive respect by all, May you be blessed with blessings of Almighty. Happy Cheti Chand
Picture greetings