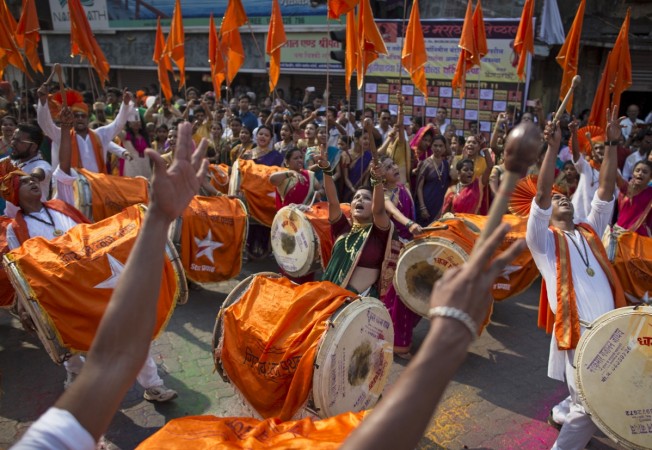 Several Bollywood celebrities have wished their fans on the occasion of the Gudi Padwa festival. Amitabh Bachchan, Dia Mirza, and Sridevi are some of the popular figures from the Hindi film industry who have tweeted "Happy Gudi Padwa" Friday, April 8.
The festival is celebrated by people in Maharashtra. Gudi Padwa is one of the major festivals of the state, and marks the beginning of the New Year. It is celebrated on the first day of the Chaitra month of the Hindu lunisolar calendar. In Karnataka and Andhra Pradesh, people celebrate the festival as Ugadi, while Sindhis observe it as Cheti Chand.
On Gudi Padwa, people worship the "Gudi" — a decorated pole on one end of which is placed an upside-down silver, brass or copper vessel along with a silk cloth. This ensemble is placed near the door or window of the house on the day of the festival. People wear new clothes and greet each other with sweets, like Basundi, Sabudana Ladoo, Kaju Kothimbir Vadi and Modak, which are especially made for the festival.
For the numerous Bollywood fans across the world, the good wishes from their favourite stars are, of course, sure to add some more sweetness to the occasion. Take a look at the tweets below:
Amitabh Bachchan: Happy greetings for tomorrow ..Happy "Gudi Padwa" .. love to all for this festival of celebration ..
Dia Mirza: Spring announces the new year :) it takes blossoming flowers to make life fruitful! Happy New Year. #Ugadi #Gudipadwa #Chetichand #Yugadi
Tulsi Kumar: Have a happy and prosperous Gudi Padwa all my beautiful people out there!
SRIDEVI BONEY KAPOOR:Wish all of you a very Happy Ugadi and Gudi Padwa. May this new year bring prosperity, peace and happiness to all.
SOPHIE CHOUDRY: So much to celebrate today!Happy #Navratri, #GudiPadwa, #Ugadi , #Chetichand ..Lots of love & happiness to u all❤️
Anupam Kher: Happy Navreh, Happy Navratri, Happy Gudi Padwa, Happy Vikram Samwat. Wishing you all Love & Peace always.:)
Madhur Bhandarkar: Happy Gudi Padwa May this day bring in your life happiness, prosperity good health.
ARMAAN MALIK: Happy Gudi Padwa.. On this auspicious day we are bringing to you our new song #BolDoNaZara from the movie #Azhar how excited are you??