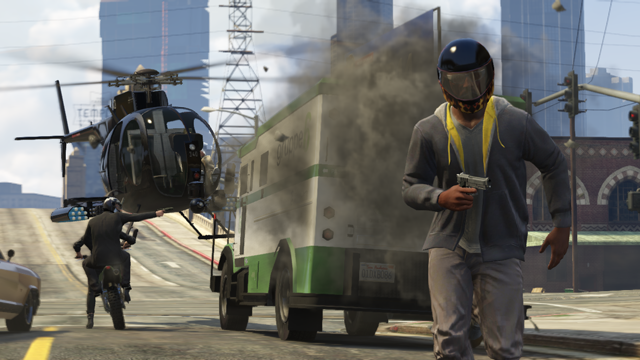 Several missions and tasks, through which one could generate more cash and character RP in the recently released GTA Online, has now been revealed.
Following is a list of missions, which can be played by players below Level 45 repeatedly to earn cash, according to Gamechup:
-Violent Duct (Level 15+, Cash reward - $9,000)
-Meth'd up (Level 7+, Cash Reward - $5,000)
-A Titan of a Job (Level 24+ Cash Reward - $10,000)
-Down the Drain (Cash Reward - $3,000 - $3,500)
-American Cycle (Cash Reward - $6,000)
-Base Invaders (Level 27+, Cash Reward - $25,000)
-Boneyard (Cash Reward - $20,000)
-No Hay Bronca (Level 9+, Cash Reward - $9,000)
Plus, a new video has been uploaded by a GTA fan on YouTube providing the guidelines to make $700,000 cash and 160k RP at the same time within one hour in GTA Online.
The cash and RP can be earned by completing the missions repeatedly. For performing the mission, the player needs to reach Rank 45, after which the payer will be assigned a mission to complete, from a character named Martin Madrazo.
The mission named Mixed Up with Coke requires the player to bomb four cement mixers filled with drugs. The video also states that it would take around 12-13 minutes with a single character and around 50 seconds with four players. After completion, the mission rewards a cash prize of $18,000 and around 3,550 RP.
Note: For completing the mission, any one player is needed to reach level 45. Any two players should have sticky bombs unlocked and the other two should have grenades unlocked. The missions can be restarted by pressing R2/RT, as stated in the YouTube comments.
The video, seen below, also shows what each of the four players have to do in the construction yard and how.
[Video Courtesy: witwix/Youtube]