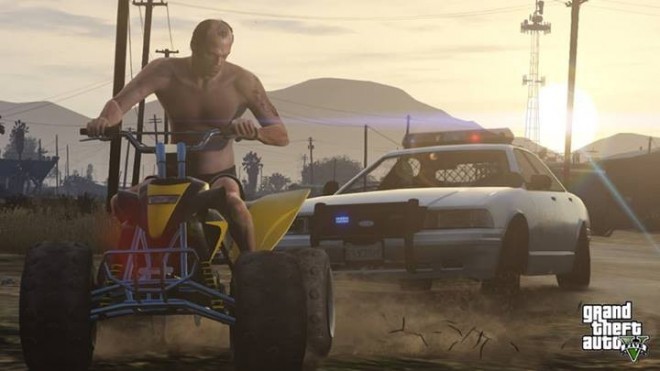 Popular open world video game from developer Rockstar Games, GTA 5 will not be affected by the shutdown of GameSpy's servers in May.
However, some of the earlier games from Rockstar might get affected by GameSpy's backend servers that will be shut down on 31 May.
"While Grand Theft Auto V is unaffected, our teams are currently working to patch specific older titles to keep the transition as smooth as possible and minimize the impact to online-enabled play and your in-game experience. The majority of changes will be in the form of Rockstar Games Social Club services, including stat tracking and leaderboards," said a post on its Support page .The developer also said that it was working on a tech update.
It also warned that players might have to say good bye to some of the older Rockstar titles. "Unfortunately, it will be necessary to bid farewell to certain online features in older games," it said. Further, the developer also apologized for any problems that were created due to the shutdown of the servers.
The titles that will be affected by the shutdown are:
Max Payne 3 - Online multiplayer gameplay will be removed only from Mac and stat tracking and leaderboard will remain unaffected.
Red Dead Redemption/ RDR Game of the Year Edition / RDR Undead Nightmare - Though the Online multiplayer gameplay will not be affected; stat tracking and leaderboards, in-game Social Club services will be removed. Multiplayer leaderboards for PlayStation 3 will be removed.
GTA 4/ GTA Liberty City - Online multiplayer gameplay will not be affected by stat tracking and leaderboards will be taken off as will be multiplayer leaderboards for PlayStation 3 only. Rate My Ride and Driving Test unlocks will also be axed.
Grand Theft Auto: Chinatown Wars - Minigames and features, Social Club content unlocks and stat tracking will be axed.
Beaterator - Social Club website features and Track Upload/Download features will be removed.
Midnight Club 3: Dub Edition / MC3: Dub Edition Remix - Online multiplayer gameplay and multiplayer leaderboards will be removed.
Other games like the PC version of Crysis and Crysis 2 will lost the multiplayer modes. Games like Borderlands for PlayStation 3 title will also be losing the multiplayer modes.
Developer Verifies 4 New Online Jobs
Rockstar has verified new Capture Jobs adding them to GTA Online. The lists of the approved are from the GTA community and once officially approved, other players too can play it.
Below are the jobs that were approved -
Contend: Corrupt Cops by JuzSlayin
GTA: That's My Rhino by RikkiVercetti
GTA: Payback Time by MaximilianR18
Contend: Adventure Team by Organlegger
Image credit: Rockstar Games
(Ed:AJ)