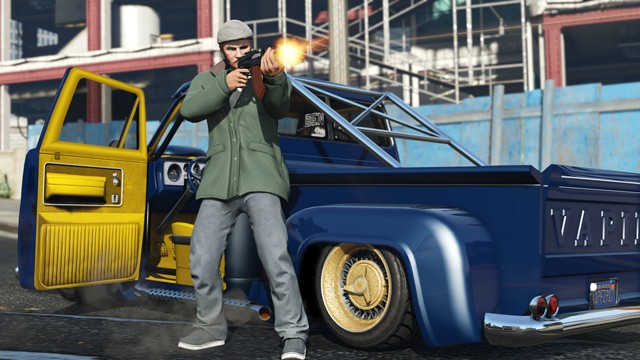 If you are a Grand Theft Auto 5 (GTA 5) enthusiast, then you need to explore secret locations and bounty-hiding spots in GTA Online.
Now, you can explore the five most secret locations where you can safely store your treasure/bounty in Grand Theft Auto Online (GTA Online). These locations have been revealed by renowned game tipster MrBossFTW. Check these secret places, and easy methods to get to these locations within GTA Online, below:
Trevor's torture room: The first hiding spot is inside Trevor's torture room (with ultra-creepy settings). The USP of this hiding spot is that it is not easily accessible, which means that you can stay put for a relatively long period of time there. Even if you are located by enemies via the mini-map, chances of people taking time-out to locate you are very minimal to say the least.
This location is kind of isolated from the core city, thereby making it difficult to find. Once in this location, ascend on to the roof and lean against the pipes that dot the perimeter. Then, launch the start menu and navigate to the adversary mode and choose Inch by Inch 4; this should get you inside hidden places.
Once in Trevor's Torture room, do remember that you would require a flashlight to navigate within as the internals are really dark, giving off a creepy feel.
Lester's Warehouse: This is located right in the heart of the city. To check Lester's Warehouse, climb to the roof by ascending two sets of ladders, and look for and find customised roof extensions that look like triangles. Go to the middle roof extension, hit the right bumper and crouch up against the wall.
Then, like in Trevor's Torture Room, launch the start menu, navigate to adversary mode and select Inch by Inch 4 to load up the job. Then back off; if this mission is a success, you will automatically be placed inside Lester's Warehouse.
Once inside, do keep in mind the fact that other players from the outside can spot your movements inside the Warehouse. However, other players cannot get to where you are. Also, it is possible for you to see and determine what other players are up to on the outside.
Once inside the warehouse, you can also hide in the garment factory. To move out of the warehouse, you can simply commit suicide or switch lobbies.
Franklin's old home: A pre-requisite to get to this location is a heavy vehicle using which you can climb up to the roof of the building. It is also possible to get to the roof using a bunch of trash bins that are mostly stewed on the outside.
Once here, stand in the middle of Franklin's home, go to the roof and again launch the start menu, navigate to adversary mode and select Inch by Inch 4 to load up job. You will then get yourself inside Franklin's house.
Once inside, you can spot people on the outside (of the house), however, you cannot shoot at people. Also, you can ravage Franklin's house by shooting at some of the expensive stuff.
Franklin's new home: This is located at Vinewood Hills. Once here, climb up to the roof and check for the roof extension.
Once you are at the roof extension, stand at the far-left or the far-right, and launch the start menu, navigate to adversary mode and select Inch by Inch 4. However, do ensure that you are the only person present in the lobby at this time.
Get inside Franklin's new house.The place is totally transparent and you can be spotted easily by anyone entering Franklin's porch. People externally cannot shoot you, remember not to panic when you see people on the outside.
Michael De Santa's house: Stand at the middle point of Michaell's home. This is the point where all adjoining properties connect. Stand here, call Martin and accept job. Once you accept the job, hit Back to be placed inside Michael De Santa's dwelling.
Explore all the stuff inside.To get outside, switch lobbies or kill yourself.