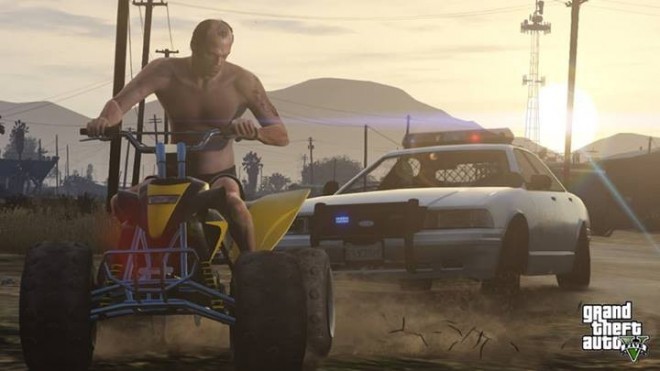 Popular action-adventure video game, GTA 5 has reportedly shipped 33 million units. New figures show us that though the revenue is down when compared with last year's, it posted a profit of $21.5 million. Additionally, Rockstar Games has announced its plans of a new title being released for next-generation consoles in 2015.
Take-Two, the distributor announced new figures as part of its 2014 fourth quarter financial results in a press release. "The largest contributors to net revenue in fiscal fourth quarter 2014 were NBA 2K14, Grand Theft Auto 5, Grand Theft Auto Online, Borderlands 2 and BioShock Infinite. Non-GAAP net revenue from digitally-delivered content grew 51 percent year-over-year to $122.3 million, led by the Grand Theft Auto series, the NBA 2K franchise and offerings for Borderlands 2," said Take-Two in the post.
Further, Strauss Zelnick, CEO during an investors call said that GTA Online had helped the company to post stronger results as it was the largest contributor to online revenue.
The report also said, "Grand Theft Auto V was the best-selling console video game of 2013 in North America, Latin America and Europe combined."
Meanwhile, it was reported that WWE 2K15 will be releasing in 2015 and this was later clarified by representatives of 2K Sports who said, "While we cannot confirm specifics today, WWE 2K15 is traditionally expected to launch in the Fall 2014 timeframe," Polygon reported.
Also, it has also been confirmed that Rockstar Games, the publishers behind GTA 5 will be releasing a new video game in April 2015.
"Rockstar Games is hard at work on their upcoming lineup, and we're excited about what they have in store for the new generation of systems this fiscal year," said Zelnick.
Apart from GTA 5 and its multiplayer version, GTA Online, Rockstar also released a Grand Theft Auto: San Andreas for Android, Windows Phone and Kindle Fire.