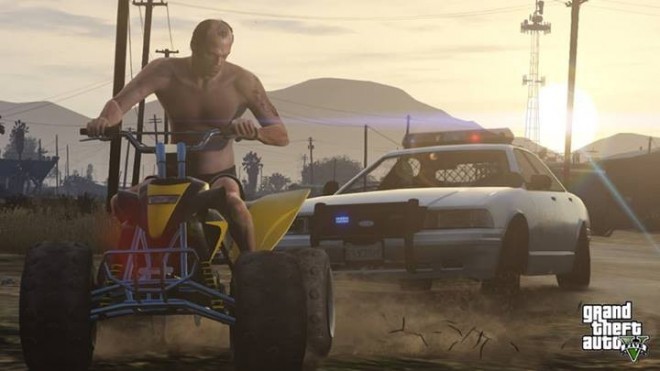 Rockstar has finally given the green signal that fans had been waiting for ever since the release of Grand Theft Auto 5 (GTA 5) in September 2013. The company has announced that GTA 5 will be coming for PC, PlayStation 4 and Xbox One in 2014 fall.
The company reiterated that the game will be making full use of the power of new consoles like PlayStation 4 and Xbox One. "Grand Theft Auto V will take full advantage of the power of the PlayStation 4, Xbox One and PC with across-the-board graphical and technical improvements to deliver a stunning new level of detail," said a post on Rockstar Newswire.
It also said that these versions will have "increased draw distances, finer texture details, denser traffic and enhanced resolutions." It also says that this iteration will bring life into the reimagined Southern California created by Rockstar. The enhancements will also include "new wildlife, upgraded weather and damage effects" and other details.
Rockstar also confirmed that even GTA Online too will be playable on new consoles. This online version will be the same as those on the current consoles – players will be able to rise the criminal ranks by able to complete Jobs for cash, properties can be purchased, vehicles and character upgrades, participating in competitive modes, ability to create playable content and the ability to share the content with others.
It also said that all the Jobs, weapons, vehicles, properties that the developer has released until now will all be made available in the upcoming versions too.
Rockstar has also confirmed cross saves from current generation platforms to the platform of their choice – PC, PlayStation 4 or Xbox One. All progressions and characters can be transferred, it said.
GTA 5 for PC will be having a special feature – a video editor which can be used for advanced movie-making.
It also said that players can look forward to start placing pre-order links from 11 June. Rockstar also thanked fans who were so eager to have this information out in public domain. "Glad to see so many of you guys pumped for the release of GTAV on PS4, Xbox One & PC this fall!" it said in the post.
(YouTube Courtesy: Rockstar Games)