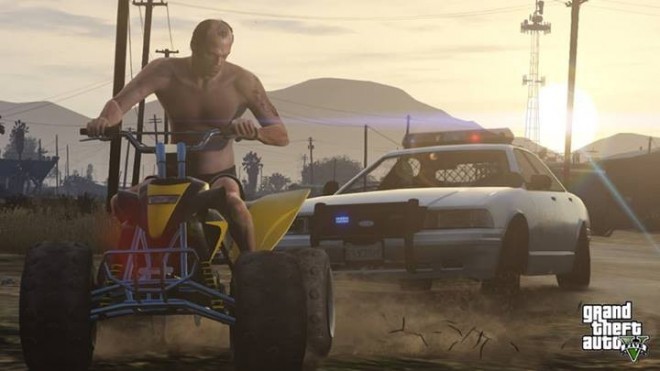 Rockstar Games, the developer of Grand Theft Auto 5 (GTA 5) has had a marked silence when it comes to the PC version of the game. But nevertheless, it has not stopped players from hoping and praying and sometimes starting up rumor mills on a PC version for the most-popular and successful video game.
The game has been only released on Xbox 360 and PlayStation 3, and fans and players are wishing the game to be released for PC as well. However, there is a possibility of Rockstar releasing the game for PC in 2014, says Michael Pachter, managing director of Equity Research at Wedbush Securities, a leading financial services and investment firm. (See Also: GTA 5 Online: Make Double Money and RPs via Reward Events on 2-3 May)
"Well, the PC version, you know, I think is a very easy port. So I am certain that's coming out, and I would bet anything that it comes out this year," said Pachter to GamingBolt in an interview. He also shared his views on the GTA 5 fort for the next-generation video game consoles, opining that he is uncertain of such a release. "The Xbox One and PS4 versions, not so fast, because to port from 360 to One is probably very hard. If you look at Titanfall, for example, it went the other way," he says.
"So, I don't even know if it's possible, or feasible. I think they might need to redo the code, which might take them a long time, a year or more, and that's if they spend their time and attention on that, and from everything I can tell, Rockstar's busy working on GTA Online. So I would say PC version this year, most likely. Xbox One and PS4, this year? Probably not," he further added giving out the reason why he thinks it is less likely that the developers will release a port for Xbox One and PlayStation 4.
Previously, Karl Slatoff, the CEO of Take-Two, that publishes GTA was asked about GTA 5 for PC and he had said, "there's really nothing for us to say about that".
But that does not stop fans from wanting to a PC version (after all, GTA was originally a PC game). Fans also have made online petitions that have already crossed 700,000 signatures requesting the developer to release a PC version of the game. Rockstar's Dan Houser had earlier stated that "Everything else is up for consideration," when asked about PC version
Ever since GTA 5 released, there have been many retail sites that have leaked the listings of a possible GTA 5 for PC. Here are some of them:
Amazon's German arm listed it in May 2013.
Amazon's UK and French arms listed it in Jan 2013
But apart from the immense clamour for the PC version of GTA 5, Rockstar has said nothing on the issue focusing more on releasing DLCs and fixing glitches on GTA 5 and GTA Online versions.
Image credit: Rockstar Games
(Ed:AJ)