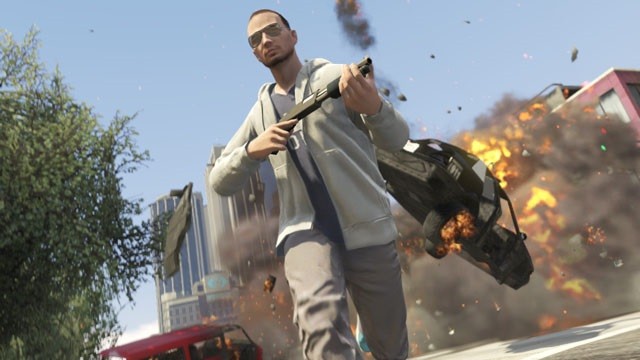 The PC version of Rockstar's Grand Theft Auto 5 (GTA 5) is back in news as it was listed by retailer GameStop. Players have been anticipating news from Rockstar on the possibility of a PC version.
The listing showed up on the PowerUp Rewards portion of GameStop. Loyal customers of the retailer can join for free, reported the Examiner. People will be earning extra points if they use the PowerUp Rewards for redeeming it for rewards, while making purchases or during trade-ins.
Many European retailers have listed or leaked information on the PC version of the game predicting it to be released after the E3 2014, on 13 June. Another rumor is that the PC version may support 32 players. (See Also: GTA Online: Patch Files Reveal Heist Details)
Though people have run an online petition asking Rockstar for a PC port, there has been neither hint nor any official word from the company on the PC port. (See Also: GTA 5 PC Rumors: Retailer Reveals Release Date)
GTA Online Glitch - How to be a Transvestite?
The GTA Online has a glitch where male characters can have female bodies. This glitch makes use of the micro transactions menu in order to glitch out the game allowing players to reset the gender of the character by replacing the head of a female with a male. This happens due to the default gender in the game being male. This was posted by Glitching Queen on YouTube and on GTA Forums.
Be online in an active match
Go to your in-game cell phone
Find something that cannot be afforded on the Internet
When trying to buy it, you get the alert error screen
Now, click on the start button
It will take back to the menu and now hit your D-pad
It will take you Online and now go to Leave online
Do not hit select when u come to GTA Online, just hover over it
Now hit start button and it will take u back to alert and hit Start, Start, A
And now it goes to Leave Online
Now quit the session
This takes players on to the loading screen
Next you will see is the store but come out of it
Now it takes to what looks like the story mode
But Internet keeps popping up and keep hitting B to get out of Internet
Now hit Start and now go to the Store and say Yes
But immediately back out
Now it goes back to the story mode but it will still be online.
Now players must "kill youself"
Now players will respawn but will be invisible to yourself, others can see you but you cannot.
Now pull out your cell phone and expect a job
But you can back out of it
When you come out of this, player character is turned into a transvestite
Watch the below clip for greater clarity:
(YouTube Courtesy: Glitching Queen)

Alien Invasion DLC Rumors
The numerous UFO locations in GTA 5 have always made players wonder the mystery behind them, now the possibility of having Alien Invasion DLC is getting closer after, Hangar 13 that is seen marked in one of the images on the wall of the game was trademarked. This was confirmed by Take-two, distributors, AllGamesBeta reported via Product -Reviews.
But his is just a rumor and there is not clarity on this DLC too.
New Cars Mined Out of Patch 1.11
A Reddit user funmw2, has discovered new cars that were hidden in the files of the Patch 1.11. The discovery has led to three new cars - Enus Huntley, the Desbauchee Massacro and the Pegassi Zentorno. These cars are most likely to make their entry into to the game through its next DLC.
(YouTube Courtesy: SkylineGTRR34Freak)