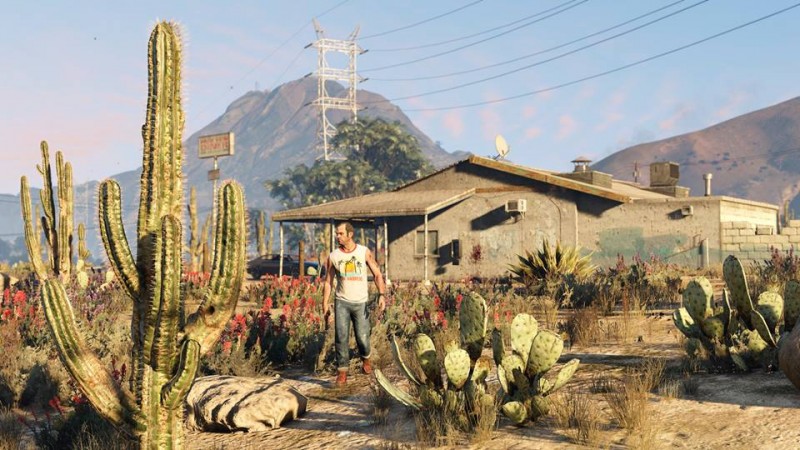 Let's be honest here. The first thing that comes to our mind when a new GTA title is discussed is the kind of mayhem we will be able to cause inside the open world of it. Sure, there's a single player story attached, but when you can go around the city doing anything you want, everything else is just plain secondary.
Rockstar's newest release GTA 5 isn't really anything different from what we have come to expect from titles in the GTA series. Like others before it, you can go around the massive world, doing anything you like. The only difference being the new GTA has an even bigger, open world, and more features than its predecessors.
Here's a list of the updated cheat codes and numbers for GTA 5 on PC. To apply cheat in the game, just press ~ to display the console window. Type any of the following codes and press [Enter] to activate the corresponding cheat function:
Invincibility (5 minutes): painkiller
Maximum Health and Armour: turtle
Recharge Ability Instantly: powerup
Faster Running: catchme
Flaming Bullets: incendiary
Explosive Melee Attacks: hothands
Slow-Motion Mode: slowmo (Enter this code up to three times to increase its effect)
Slow-Motion Aiming: deadeye (Enter this code up to three times to increase its effect)
Increase Wanted Level: fugitive
Skyfall: skyfall (You will be teleported into the sky for a skydiving freefall)
Drunk Mode: liquor
Slippery Cars: snowday
Low Gravity: floater
Change Weather: makeitrain
BMX Bike: bandit
Buzzard Attack Helicopter: buzzoff
Comet: comet
Limo: vinewood
Parachute: skydive
PCJ-600: rocket
Rapid GT: rapidgt
Sanchez: offroad
Stunt Plane: barnstorm
Trashmaster: trashed
Special Cheat Cell Numbers
Invincibility (5 minutes): Call 1-999-724-6545537 (PAINKILLER)
Full Health and Armour: Call 1-999-887-853 (TURTLE)
Raise wanted level: Call 1-999-384-48483 (FUGITIVE)
Recharge Special Ability: Call 1-999-769-3787 (POWER-UP)
Faster Run: Call 1-999-228-2463 (CATCH ME)
Flaming Bullets: Call 1-999-462-363-4279 (INCENDIARY)
Explosive Melee Attacks: Call 1-999-468-42637 (HOT HANDS)
Slow-Motion Aim: Call 1-999-332-3393 (DEAD-EYE)
Moon Gravity: Call 1-999-356-2837 (FLOATER)
Slidey Cars: Call 1-999-766-9329 (SNOW DAY)
Spawn BMX Bike: Call 1-999-226-348 (BANDIT)
Spawn Buzzard (small attack helicopter): Call 1-999-289-9633 (BUZZ-OFF)
Spawn Comet (two door sports car): Call 1-999-266-38 (COMET)
Spawn Limo (limousine): Call 1-999-846-39663 (VINEWOOD)
Spawn parachute: Call 1-999-759-3483 (SKY-DIVE)
Spawn PCJ-600 Motorcycle: Call 1-999-762-538 (ROCKET)
Spawn Rapid GT (two door sports car): Call 1-999-727-4348 (RAPID-GT)
Spawn Sanchez (dual-sport dirt bike): Call 1-999-633-7263 (OFF-ROAD)
Spawn Stunt Plane (fixed-wing stunt plane): Call 1-999-227-678676 (BARN STORM)
Spawn Trashmaster (garbage truck): Call 1-999-872-433 (TRASHED)
Skyfall: Call 1-999-759-3255 (SKY-FALL)
Drunk Mode: Call 1-999-547867 (LIQUOR)
Slow-Motion Mode: Call 1-999-756-966 (SLOW MO)
Change Weather: Call 1-999-6253-48-7246 (MAKE IT RAIN)
Stay tuned for more updates!