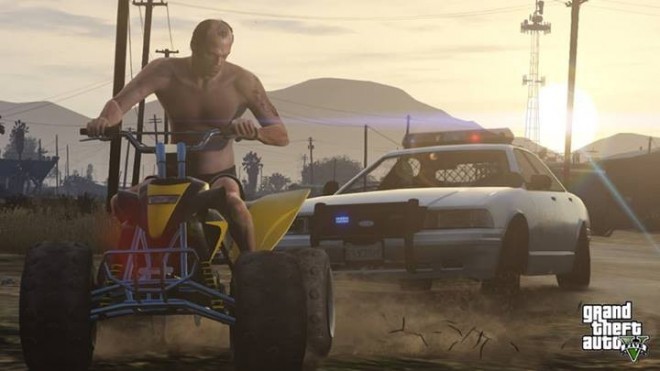 An online retailer has reportedly listed the yet-to-be confirmed PC version of popular Rockstar Games' action-adventure title Grand Theft Auto 5 (GTA 5) for a September release.
Retailer simplycdkeys, who specializes in CD keys for PC games, has listed the PC and Steam versions of the game for release on 19 September. The retailer is also taking pre-orders, reported Gamerspective.
The website is offering CD Key for GTA 5'S PC and Steam versions, which it says will be purchasable in September. The listing suggests that PC and Steam versions are likely to be rolled out after the release of PlayStation 3 and Xbox One version.
Meanwhile, some of the lucky buyers and retailers were part of the Destination PlayStation event, featuring some of the upcoming gaming titles from different publishers. This was held by Sony Computer Entertainment at in Scottsdale, Arizona, reported DualShockers.
Though people who attended this event had to adhere to a non-disclosure agreement, one Twitter user - Lokiolr - said in a post that "Rockstar had something amazing to show but bailed at the last minute. Expect an E3 announcement from them this year. Likely GTA V on nextgen." This clearly suggests that Rockstar has plans to rock at E3 2013 in June.
High anticipation persists among GTA fans on Rockstar releasing a PC port to the game. The company has officially not shared any information or even hinted on this likely port.
However, leaks, via various retailers across Europe, have kept the hopes alive. Previously, Worten, a Portuguese retailer, listed GTA 5's PlayStation 4 version. Other retailers like Amazon Germany, Czech retailer SuperGamer had also listed the game.
Glitches Noticed after 1.11 Patch
Rockstar Games rolled out a new patch - 1.11 - to fix the glitches that were being exploited in GTA 5. Trade in Detectives recently posted that despite the patch two of the exploits have remained functional. (See Also: GTA 5: Title Update 1.11 Now Available)
Two such glitches have been spotted, with the first one involving duplication of cars and the second is infinite money glitch for players with a rhino tank.
Car Duplication Glitch after 1.11 Patch:
Below are the steps to follow for duplicating a car following 1.11 Patch:
This car duplication glitch will require a friend to help you out.
Let your friend park his car sideways outside your garage.
Now the player must enter his garage.
Get behind the wheels of a car that you can do without.
Pull out your cell phone (in-game).
Go to Quick Job > Join Random.
Now, a message pops up on you cell phone.
Check the message.
The message will want you to confirm the request.
If you are sure then press A and RT for Xbox 360 and X and R2 for PlayStation 3, simultaneously.
Once the job loads, exit it.
Now, the player will respawn back in the garage.
After respawning the game will be glitchy.
Head out to the friends' car parked outside your garage.
Game continues to be glitchy till the car is spawned back in your garage and the car goes into a 'drive-out' garage.
Now return to your garage again.
A car of your picking should be taken out and brought back to the garage.
Now, players will have the duplicated car in the garage.
(YouTube Courtesy: asd)

Unlimited Money Glitch after 1.11 Patch:
For this glitch to work, players will have to have Rhino tank and a valuable car. Follow the steps below to acquire more money.
The player must drive the tank to their garage.
Park the tank close to the garage doors.
Now get out of it and enter the garage.
Select the most valuable car.
Drive this car outside, players will respawn on the road.
Now pull your cell phone
Dial Mors Mutual Insurance and ask for car you are currently driving.
Now players will have to buy a rebel, costing $3,000.
Call up your mechanic to have it delivered.
The rebel will arrive at your garage but players must sit tight and head to Los Santos customs.
Here sell the car and get money.
Go back to the garage.
Players will see a duplicated car in their garage.
Keep repeating these steps until you want the required money.
(YouTube Courtesy: UltraCodClips)

(Edited by Vishnuprasad S Pillai)