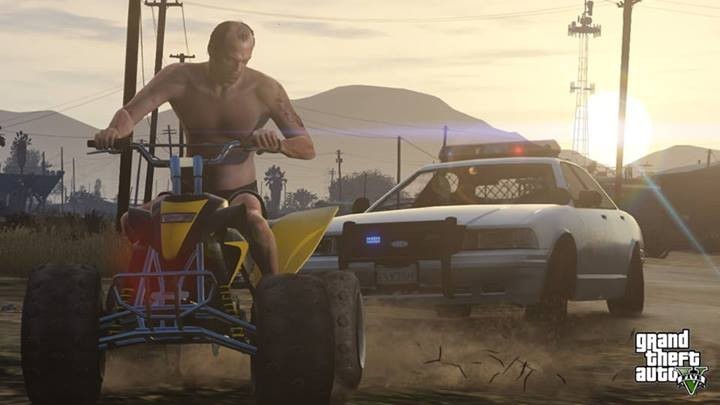 Rockstar has provided GTA fans with more insight on what they can expect for its upcoming PC version by releasing some new screenshots.
All the 15 screenshots released are high resolution images, reiterating its promise of the PC version being "graphically and technically advanced."
The PC version was delayed several times. While it was earlier said that the version would be rolled out on 27 March, the date has now been pushed to 14 April, which has saddened many PC gamers.
It had reasoned that it needed to "ensure that the game is as polished as possible, and to make certain that both Heists and the GTA Online experience are ready to roll out on day one for PC."
Rockstar informed fans to be on the look out for the offcial PC trailer rolling out next week.
Also fans who want to get the digital download version have to preorder the game by 31 March, that will given them $1.5 million in in-game bonus GTA money to spend ($500K GTA money for Story Mode and $1M GTA money for GTA Online use.)
The PC version will feature an array of "major visual and technical upgrades to make Los Santos and Blaine County more immersive than ever," with increased draw distances.
It will run at 60FPS in 1080p, with the ability to display visuals in 4K resolution.
PC version will see some additions and improvements in the following:
New weapons, vehicles and activities
Additional wildlife
Denser traffic
New foliage system
Enhanced damage and weather effects, and much more
It will also have stunning resolution, dramatic improvements to lighting, shadows, and textures, and a smooth frame-rate.
PC version will include First Person Mode, the new Rockstar Editor, increased player count (up to 30 players.)
Existing players from PS3, PS4, Xbox 360 and Xbox One can transfer their GTA Online characters and progression to PC.
GTA 5 for PC will be out on 14 April, 2015.
System Specification for PC Version
Minimum specifications:
OS: Windows 8.1 64 Bit, Windows 8 64 Bit, Windows 7 64 Bit Service Pack 1, Windows Vista 64 Bit Service Pack 2* (*NVIDIA video card recommended if running Vista OS)
Processor: Intel Core 2 Quad CPU Q6600 @ 2.40GHz (4 CPUs) / AMD Phenom 9850 Quad-Core Processor (4 CPUs) @ 2.5GHz
Memory: 4GB
Video Card: NVIDIA 9800 GT 1GB / AMD HD 4870 1GB (DX 10, 10.1, 11)
Sound Card: 100% DirectX 10 compatible
HDD Space: 65GB
DVD Drive
Recommended specifications:
OS: Windows 8.1 64 Bit, Windows 8 64 Bit, Windows 7 64 Bit Service Pack 1
Processor: Intel Core i5 3470 @ 3.2GHZ (4 CPUs) / AMD X8 FX-8350 @ 4GHZ (8 CPUs)
Memory: 8GB
Video Card: NVIDIA GTX 660 2GB / AMD HD7870 2GB
Sound Card: 100% DirectX 10 compatible
HDD Space: 65GB
DVD Drive
Below are the newly released screenshots for GTA 5 PC: