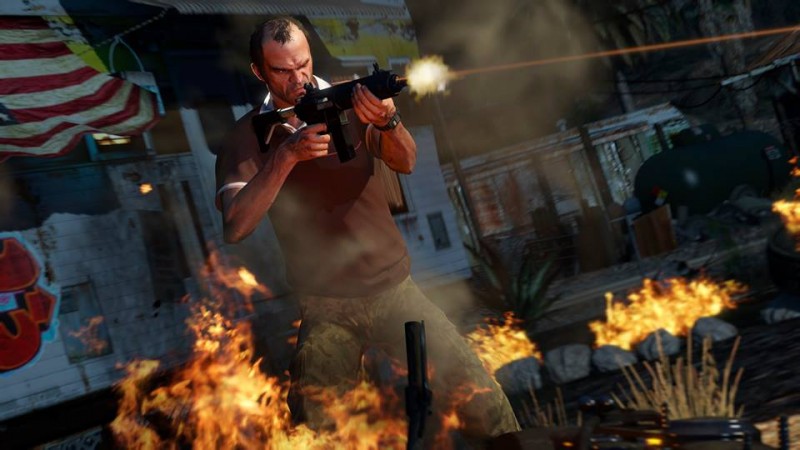 GTA 5 for PC players faced issues even after Rockstar released the first patch 1.01. It released another one, patch 335.1 that promises to fix the rest of the issues left behind by the first patch.
This patch brings fixes to issues in Humane Labs Heist, Rockstar Editor, GTAV Launcher and Steam overlay.
Below are the second patch notes for GTA 5 for PC (Rockstar Support):
Players can no longer purchase more vehicles than their properties can store.
Players can now launch a video card benchmark test from the main menu.
Fixed an issue where facial features would not save correctly when transferring a character from Xbox 360 or PS3 and changing genders while editing the character's appearance.
Fixed an issue where players could become stuck in the clouds when voting to quick restart the Humane Labs Heist.
Fixed an issue where markers in the Rockstar Editor could not be deleted with the mouse.
Fixed various audio recording issues with Rockstar Editor clips.
Fixed an issue where the Yacht would not appear in some recorded Rockstar Editor clips.
Fixed a rare issue where some Rockstar Editor clips could not be opened for editing.
Fixed an issue where the GTAV Launcher would not display the correct amount of time remaining for file downloads.
The Steam overlay has been moved to prevent it from covering up Launcher buttons.
Fixed an issue where the game would not save your settings when restarting in some instances.
Fixed a rare issue where the Steam version of the game would crash right after launching.
Windows Media Player is no longer required to install GTAV. Instead, Windows Media Foundation will be required.
Fixed an issue where the game would show the pause menu without player input.
Fixed an issue where the max frame rate would be incorrectly low in rare cases.
GTA Movie Details
There is a new GTA Movie that BBC is working on, tentatively titled "Game Changer." This is likely to be a 90-minute factual drama that will be screened on BBC Two.
According to the BBC, the movie will feature Daniel Radcliffe and Bill Paxton. It will concentrate on the controversy that surrounds the game and its successful coding story. Daniel Radcliffe will play Sam Houser and Bill Paxton will play Jack Thompson. Sam Houser is the co-creator of the gaming series and Jack Thompson is the lawyer who had earlier campaigned to stop the rise of GTA game.
"Game Changer (w/t) tells the story of an extraordinary chapter in the history of this iconic game, and reveals the major impact it has had on our cultural landscape," said the official post.
Though the game has been one of the fastest selling products in history, many activists, politicians and parents have called for a ban on the game; they worry it encourages violence among kids.
The game will be directed by Owen Harris ("Kill Your Friends", "Black Mirror", "Misfits"). James Wood ("Ambassadors") will be penning it and Jim Spencer ("All Stars", "Monsters") will be the producer.
Rockstar Replies on Hacks
Responding to reports that the Social Club in GTA 5 has been hacked, Rockstar has assured players it has not been compromised as believed earlier.
The issue arose after a small group of gamers were locked out of Rockstar Social Club accounts.
Rockstar said in a statement to Kotaku: "As confirmed yesterday, the Rockstar Games Social Club has not been compromised. However, it appears that attempts have been made to access user accounts using email and password combinations from an unaffiliated, compromised website or database elsewhere on the internet. For the accounts affected, we are in the process of reverting those accounts back to their original owners. As a reminder, it is a good policy to ensure that the Rockstar Games Social Club account username and password is not shared across multiple websites on the internet."