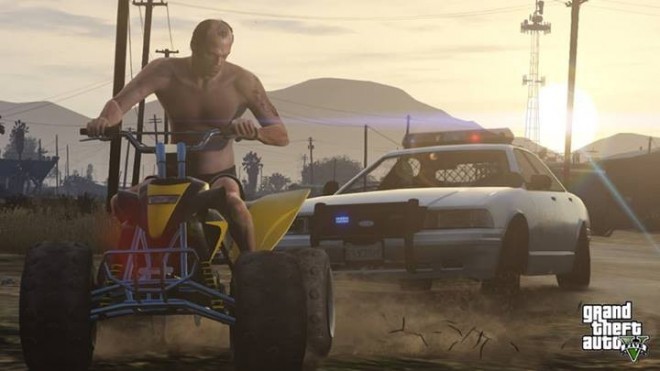 Before the arrivals of the 1.16 update for GTA 5 Online, leaked information were doing the rounds that Zombie DLC will be part of the update. But when it was finally released, Rockstar had only introduced the Flight School DLC.
However, Official PlayStation Magazine (OPM) UK has teased in its cover that Zombie DLC might be featured in GTA 5 Online.
The cover lists GTA 5 along with host of other gaming titles, under "Zombie Outbreak" suggesting that the DLC will be making its way into the game. OPM carried the GTA 5 title along with gaming titles for Resident Evil, Dying Light, H1Z1 and The Walking Dead.
Subscribers should be receiving early copies of #OPM101 in a week. It's out in shops 2 Sept - here's an early peek. pic.twitter.com/1RHHT7GpbT

— OPM_UK (@OPM_UK) August 23, 2014
Previously, Strauss Zelnick, CEO of Take-Two showed interest in the DLC when he said, "We had the presence of mind to add zombies to the title; and everyone always loves zombies. I'd like to do zombies in everything, but I probably can't say that here. But they do sell," in an interview to Attack of the Fanboy.
The idea of Los Santos being attacked by the undead is not far-fetched and many had previously predicted a single-player Zombie DLC for GTA 5 Online.
Previously, some the source code had indicated at Zombie DLC. Other alleged DLCs that were previously reported were - comedy clubs, arena maps, casinos, dirt racing, CIA missions, assassination missions and more.
Apart from these, the Rockstar has already confirmed that GTA 5 Online will be coming for PC, PlayStation 4 and Xbox One.
Rockstar has only said that it will be rolling out these versions soon and has not yet released the dates for these. It has been rumoured that they will be rolling out during the Holiday season in 2014.
Rockstar has previously indicated that players will be allowed to transfer their date from Xbox 360 or PlayStation 3 to the next-generation consoles or to PC.
Fans are hoping that the Rockstar will bring cross-save support for the game, which will allow players on PlayStation 3 to save games to PlayStation 4, from where the game can be easily continued.
It has been speculated that Rockstar might bring exclusive next-generation content for both PlayStation 4 and Xbox One.