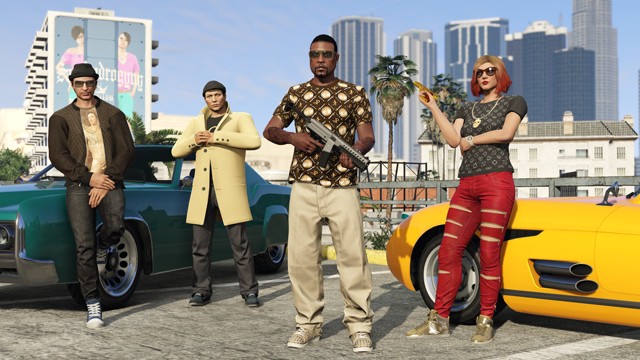 Rockstar recently added a new Ill-Gotten Gains DLC for its popular action video game, GTA 5 Online.
The DLC came with patch 1.27, which brought in a huge array of fixes and tweaks to the game along with some new content. It had added high-end vehicles and other luxuries to GTA 5 Online players.
However, it was recently discovered that Rockstar has brought in new measures via its new patch that will bring restrictions for gamers who want to involve in duplication of vehicles.
Following the new patch 1.27 overrides the 48-minute rule that let players sell six vehicles in a day at Los Santos Customs, before a warning message popped up regarding a player exceeding the maximum limit for selling that day.
Twitter user TezFunz aka Funmw2 tweeted saying that the company has added new stats in the update that will track people who exploit the vehicle duplication glitch. It has literally found out a way to see who is bypassing the rules of the game.
R* have added new stats related to selling vehicles with the new update Tracking the people who are using selling vehicles glitches.

— TezFunz (@TezFunz2) June 12, 2015
He also went on to say that players who might use such glitches to sell their vehicles will be banned in the future.
[Source: iDigitalTimes]
High Roller Casino Shortly Opening Up?
We all remember that before the confirmation of Ill-Gotten Gains DLC, it had been speculated that GTA 5 Online will get a Casino DLC and a High Roller DLC.
GTA YouTubers have suggested the possibility of GTA 5 Online getting a new casino titled High Roller. Previously too, fans had discovered of a casino that read, "opening soon," but never opened. So it is believed that this casino could be the one that Rockstar will eventually call the High Roller Casino.
Should GTA 5 Players Buy Luxor Jet?
Following the new update for GTA 5 Online that gave players luxurious yet expensive road and air vehicles, a new video shared by one of GTA fans guides us as to what vehicle to buy following the Ill-Gotten Gains DLC.
The fan says not to buy the highly expensive Luxor Deluxe Jet that costs 10 million GTA money. Though the jet is all gold plated and allows its owners to smoke cigar and have champagne in the jet, it is not worth 10 million.
Nude Strippers in New Upgrade
A video from a GTA fan revealed that the patch 1.27 for GTA 5 Online has added strip clubs to the online mode. Players will find the strippers in the game to be "nude." Players can also have private dances too.
Knuckle Duster and Marksman Pistol to be Part of Ill Gotten Gains Part 2
GTA fan has revealed that though the present GTA 5 Online Ill Gotten Gains Part 1 update contains Knuckle Duster and Marksman Pistol, it will be reach players only in Ill Gotten Gains Part 2 update.