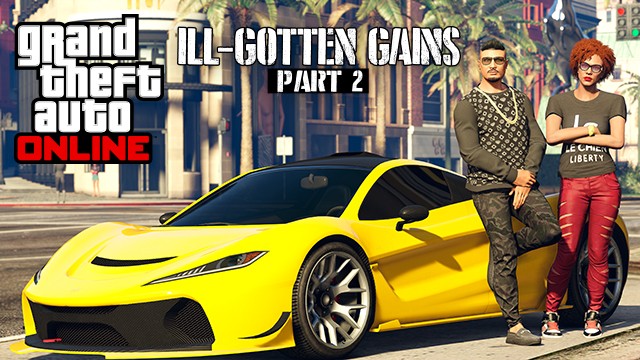 Since the release of Ill-Gotten Gains Part 2 for GTA 5 Online, Rockstar looks like it is preparing the ground with double RP and double GTA money events.
There has been a lot of speculation also on a Low Life or Low Rider DLC for the online mode. Some have even predicted something might be coming for Single Player mode. Though officially Rockstar has not commented on any of these, we can wait and see until it is revealed.
Speculations of a Big DLC Incoming
GTA 5 tipster and YouTuber, MrBossFTW has shared a video where he takes question from fans. One fan wants to know if anything "big" will come out. So the tipster says there is a possibility of an update for GTA 5 rolling out. He argues that it is mysterious that Rockstar is providing back to back double RPs and double GTA money events.
His belief is that after a week or two of these events, it is likely that the game could see a new big DLC. He rejects any speculations that it could be Ill-Gotten Gains Part 3, he suggests that it might be different one with new content, vehicles and more is likely to come out by August end.
Single Player DLC Release Possibility – 100%
MrBossFTW revealed that he was 100% sure of a Single Players DLC being released for GTA 5. But he said he does not know when it could come out since it takes a while for them to build up to its release. He speculates that Rockstar might release one in late 2015 during Christmas or early 2016.
Cop Car Modification
To a fan question dealing with cop car modification, MrBossFTW said that this has been a long standing request by the community, but this is possible if Rockstar brings Cops vs Crooks DLC, which was previously speculated but never materialised.
New Sports Car?
To a question on the possibility of a new sports car, he said that this could be possible since it has been a long time since GTA 5 had one such car that performed well.
How to make Quick Money – 2X RP and GTA money Event
Rockstar has released a new double RP and a double GTA money event for GTA 5 Heists. This new event announced in Newswire will be running for the next three days. The event started on 27 July and will end on 2 August.
Players will get this 2X RP and GTA money for participating in Set-Up Missions and the Finale in the Series A Funding GTA Online Heist.
Players indulging in taking Elite Challenges in the Heist Finale will be rewarded with:
Complete in under 6:30
Kill 75 enemies
Nobody gets wasted
Below are some of the activities that will garner double RPs that will increase the skills of your character:
Gang Attacks
Mission: Out of Harmony
Missions: Deliver a Package Bonus
Deathmatch: All Kills
Deathmatch: 1st, 2nd and 3rd Place finishes
Deathmatch: 3, 6 and 10 Kills
Deathmatch: Power Player, Kill When Close to Death
Vehicle Deathmatch: Kill Power Player
Survival: Wave Reached
Capture: RP Rewards for Collecting Mission Package