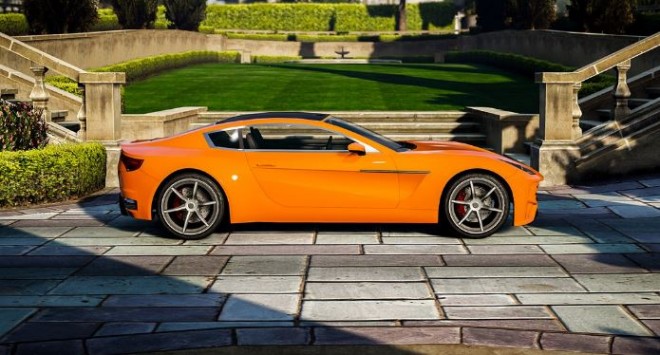 "GTA 5 Online" players received a new Dewbauchee Seven-70 race car after the release of new Dewbauchee Seven-70 Week in continuation of its Independence Day celebrations, according to a Newswire post.
The Dewbauchee Seven-70 is the newest sports car that has been added to "GTA 5 Online," and like other sports cars it too comes at a high price.
This car is priced at $695,000 GTA money, according to the Legendary Motorsport website, the go-to shop to buy cars inside the game.
Popular GTA player and Vblogger noted in his analysis of the newly-released race car that Dewbauchee Seven-70 is expensive if we consider the prices of other older race cars, like Bestia GTA ($610,000), Furore GT ($448,000), Massacro ($275,000), and Jester ($240,000).
However, race cars like Verlierer have been released earlier with the same price tag as Dewbauchee Seven-70. The new race car turns out to be cheaper in comparison to some of the newer race cars in "GTA 5 Online" like Pfister 811, which costs $1,135,000.
Though the new Dewbauchee Seven-70 offers players about 18 different categories of modifiable parts, it was noted to be low on customisations, especially when it comes to unique customisation options. It was revealed that there were only three unique customisation options — exhaust, spoiler and skirts. Moreover, players are unable to change the roof of the vehicles since it features a default carbon fibre roof.
Nevertheless, the vehicle has stunning looks, being based on the Aston Martin design. It also features a wider body. So though the Dewbauchee Seven-70 lacks in customisation, it gains points for its looks.
In terms of performance, Vblogger Broughy1322 noted that the Dewbauchee Seven-70 is the seventh best sports car in the game, since it is a well-balanced vehicle. However, it has no features that make it stand out in races. The car was said to be a "good" sports car but not a "great" one.
So it is a car that would not let player win races, so players can buy the car but without any expectations on its performance as a race car. But it is a good car for other events in the game.
Verdict: Players can buy the car for its looks but not for its performance."
Meanwhile, the Dewbauchee Seven-70 Week featured events that lets players earn double GTA money, RP playlists, discounts and three new maps (LSIA, Port of Los Santos, Alamo Sea) for the Power Play mode.
The new car is available on PC, PS4 and Xbox One version of "GTA 5 Online."