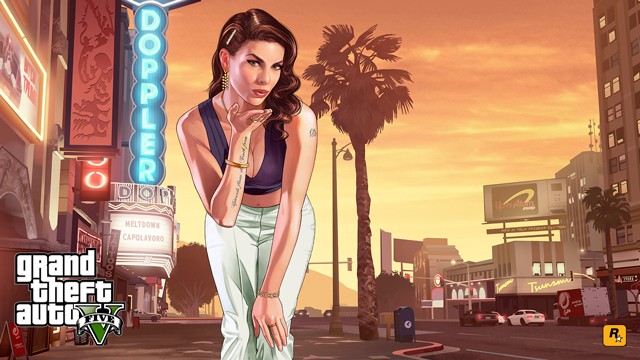 Rumours have surfaced online suggesting GTA 5 for PlayStation 4 will have a heavy install file of 50GB. A PlayStation Store listing leaked the requirement for the PS4 version of GTA 5.
However, GTA Forums managed to grab the image that clearly mentions "50GB minimum save size." It was reported that if the rumour happens to be true, then it will be the biggest game in size for PS4.
The leak also revealed that the game will support motion elements. Previous leaks had suggested that GTA 5 on next-generation and PC will have a FPS mode for vehicles and players on the feet.
GTA 5 will be released on 18 November 2014 and the PC version will be released on 27 January 2015.
Hydra DLC Leaked
YouTuber DomisLive has said that he has more information on Hydra DLC in GTA 5 Online after update 1.17.
He shows proof that indicate that the Hydra could be eventually rolled out to GTA 5 Online. Proofs mining information from the source coding of the game where in 1.15 update, Rockstar added 'PILOT_SCHOOL_VEHICLE_HYDRA', but it removed in 1.16 update and added back in 1.17 update. However, the price remains the same, 1.7million GTA Money.
Some in-game proofs like Deathmatch created by a fan has a menu that only some players can see Hydra among the type of planes. But none can still play it.
Bulletproof Helmet
DomisLive also gives tips on how to wear combat mask and the Bulletproof vest using a glitch.
Players need a four-wheeler like ATV that will allow them to put on the combat mask.
After finding it stand on the side of the vehicle, hold the back button on the Xbox 360 or Select button on the PlayStation 3, then go to Inventory > Accessories > Helmet (make sure that Auto Show Helmet is switched 'on')
After that hover over the Helmet that you want.
Next hit the X button and exit from that and get on the four-wheeler.
Now when there will be an animation that will happen on your character putting his/her helmet, players must immediately hold back button/select button, then go to Inventory > Accessories > Masks (quickly select the combat mask you want).
After that, go to Armour> and select the armour you want.
Now hit start button> Swap Character> Select the character and when you spawn back you will see that the character now has both combat mask and the Bulletproof vest.