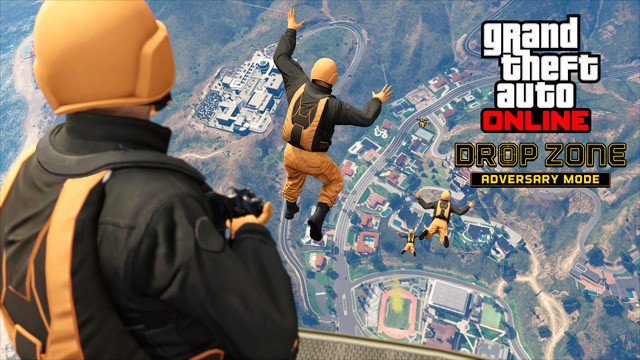 GTA 5 Online, the popular video game from Rockstar, has released new content that adds Drop Zone, new vehicles and upgrades.
The new Drop Zone Adversary Mode has players, tagging along with their teammates, to swoop down from Cargobobs and race to a small patch of land on the ground, which has to be seized and taken control of. They have to coordinate with their teammates as they attack and defend the patch of land.
The new mode will allow four teams of maximum 16 players, and promises to be "fast, chaotic and prone to huge fortune swings". The team that can hold the zone for two non-continuous minutes will be the winner.
This new mode will feature five Drop Zone maps. Each map will be unique in terrain and players will have to deploy different strategies to win. Newswire said the maps can be found at Pillbox Hill, Richman College, Elysian Island, the Mirror Park cul-de-sac and the Sisyphus Theater.
Benny's, the customs shop in Los Santos, will get upgrades for two new vehicles — Karin Sultan and Bravado Banshee. Players can check them out at bennysoriginalmotorworks.com for a low entry price.
Players can use the upgrades at Benny's and transform the cars into wide-body race cars Karin Sultan RS and Bravado Banshee 900R.
These new content are only available for PC, PS4 and Xbox One. Last-generation console versions of GTA 5 Online, like PS3 and Xbox 360, have again missed out on the content.
Rockstar also noted that there would be a Weekend Event that includes double GTA money and RP playlist, in-game discounts and more.