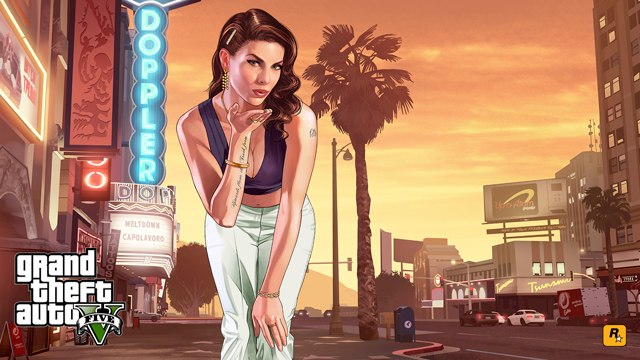 New details have surfaced on the upcoming PS4 and Xbox One version of GTA 5 Online from Rockstar Games.
Leaked information has surfaced online, following the posting by a NeoGAF user who allegedly attended a GameStop conference in US where Rockstar showcased the GTA 5 Online's PS4 and Xbox One versions with 30-minute gameplay during a 45-minute closed-doors presentation.
The post also said the new trailer for the re-mastered version will be "out soon." Below are some of the impressions from the presentation by an attendee (NeoGAF):
They showed us multiple locals. The city, underwater areas, country side etc.
Foliage has been completely reworked. Tree barks been redone, individual grass blades, wild flowers etc. This applies to underwater areas as well. Completely reworked coral reefs and underwater plants.
Draw distance now is INSANE. One example they showed us was the main city at night. They showed it on PS3 first and showed us how all lighting at a distance was pre-baked. In the re-master its all pre-loaded in real time and is dynamic. You can see lights and traffic flow from massive distances.
Water-rendering system has been completely redone. Rivers / Ocean / rain are gorgeous.
No release date given. They simply said soon.
Animal texture work has been 100% re-done.
Anti Aliasing looked great with little to no jaggies. Looked 1,080p to me. It was demoed on PS4.
Promised "new" content. One example was new songs / sound track / radio stations.
Best remaster I've seen so far. I literally gasped at the differences.
He also added these observations from the conference:
Character models have been improved for sure.
Street detail is massively improved. Rain water now pools up on the road and honestly reminded me of Infamous Second Sons wet roads.
Animal and Wildlife count has been upped. They specifically mentioned how much they learned from Red Dead Redemption and the original GTA5 and wanted to improve animal interactions even more.
Animals now sport actual fur. As in strands of hair that stick out from the actual body not just flat textures like in the original release.
I believe this has been in development since before GTA5s actual release as they said it's been heavily worked on for over a year. Believe me you can tell. This is a complete remaster, not just an uprezzed port. A huge chunk of staff have to be working on this.
Cars on the road appeared 2x more or so to me.
Cannot comment on physics and such guys as much of what they showed was environmental without tons of action. They showed a lot of the beautiful vistas from a debug mode where they were free camera.
Looked 30 (FPS) to me. But I believe it's not locked down the FPS yet.
Considering the visuals I'll be shocked if it's 60 (FPS) at launch but I'm not confirming anything.
Rockstar has not confirmed the above leak, however, previously it has said the game will be making full use of the next generation systems and will have better graphical and technical improvements with "stunning details" to the game.
'Servers Down' Suggests Heist DLC Update?
Fans have been anticipating the release of Heist DLC for GTA 5 Online. Rockstar has said its game servers will be down on 18 and 19 September for maintenance. This has led many to speculate on the possible updates to the game.
Speculations have been rife if Rockstar will be rolling out a possible 1.17 Update with a Heists DLC. On 18 September 2014, Rockstar will be cleaning up leaderboard, is this an indication that it will be doing this for Heists? There was a speculation that Heists will have online leaderboards.
Assault Sniper Rifle and Monster Truck Leaked
Fans mining the source code for information have found two new items that haven't yet been released to the game - Assault Sniper Rifle and Monster Truck.
These items were found in the Xbox Marketplace source code. The Assault Sniper Rifle was also found in the game source code according to YouTuber DomisLive.
Fake Tweet on GTA 5 High Roller DLC?
Fans were speculating if a tweet that Rockstar supposedly sent out on High Roller DLC was real or fake. Below are the reasons that it could be considered as fake according to some experts.
The tweet from Rockstar where it said it will be rolling out High Roller DLC for GTA 5 has never been found on its official Twitter account.
In the tweet that was leaked, Rockstar has mentioned the new content as High Roller 'DLC', DomisLive, a YouTuber pointed out that Rockstar usually do not mention 'DLC' but they do mention it as 'Update.'
The image that was used in the tweet was the same as that used for Flight School Update.
Normally Rockstar makes use of a new image that is from the new update, like that of casino or something when using instead of an old image.
Release Date
GTA 5 for PlayStation 4 and Xbox One will be releasing on 18 November 2014. The PC version will, however, be released on 27 January 2015.