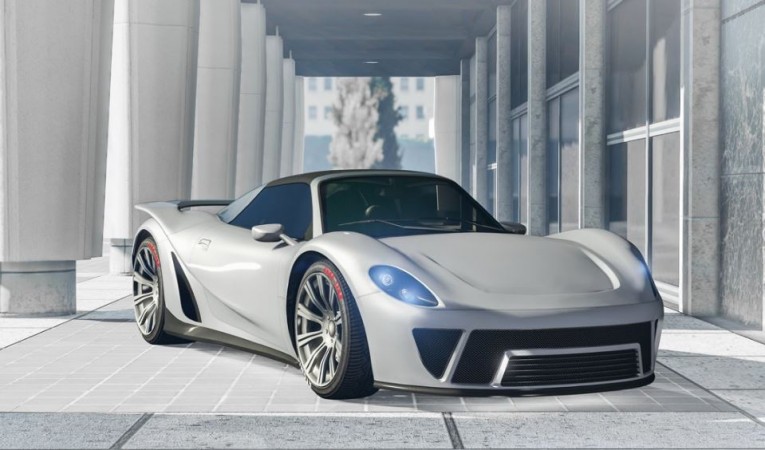 "GTA 5 Online" the popular action-adventure video game from Rockstar Games, received a new supercar, Pfister 811, and also double GTA money and RP Independence Day event.
The supercar has been made available for purchase at the in-game vehicle shop, Legendary Motorsport. The official Newswire post announced the new content, referring to the supercar as "an ample competitor with a sleek, refined look." The supercar is currently available on PC, PS4 and Xbox One.
But several players and YouTube users have questioned the worthiness of buying the new supercar, Pfister 811. This new vehicle costs $1,135,000 and this is the lowest supercar anyone in the game can buy, as the others that have been offered earlier have been more expensive. This is a chance for players who want a "supercar" but are also inclined to save money. It is also a beautiful looking car that is based on the Porsche 918 Spyder.
Though the car does not have a "great amount" of customisation options, it lets players alter its colour.
Pfister 811 is a cheaper bet and the cost is worth paying for.
However, it has been argued that the good things about Pfister 811 end here. Popular YouTube users were able to perform speed tests on Pfister 811 pitting it against others like Grotti X80 Proto. It was deduced that it can accelerate to top speeds and was able to keep up with other supercars in a straight line drag race. But when it came to circuits and other regular racing settings, the Pfister 811 was not on par with the rest, especially in terms of traction and handling. It did not finish the race among the top 5.
A YouTube user argues that the Grotti X80 Proto was the most expensive with $2.7 million GTA money but it is the best supercar Rockstar has released until now. It made sense for them to release Pfister 811 for a lesser price as it does not excel the Grotti X80 Proto. Many players who bought the Grotti X80 Proto would have been disappointed if Pfister 811 was better.
So Pfister 811 is a cheaper bet and the cost is worth paying for, though players have to remember that it might not win races and hence could be a challenge for experienced players who use Pfister 811 against other supercars.
It could also be a good vehicle to go on car cruises with friends in "GTA 5 Online."
Meanwhile, Rockstar also announced special events that offer discounts in the game. It has called it, "Independence Weekend Specials."
Double GTA money and RP Street Racing Playlist: This event is available from June 28 through June 30. This would allow players race Pfister in an up-to-8-player Playlist featuring "Senora Freeway", "Arms Race" and "Business Trip".
Discounts:
40 percent off the Turreted Limo and Karin Technical: Both these vehicles were made available in Executives and Other Criminals DLC.
40 percent off all Masks
50 percent off Bull Shark Testosterone
Double GTA$ and RP Independence Weekend Playlist: This is an up-to-8-player Playlist featuring "Road Tripping" (TDM), "Across the Wilderness" (locked to the Liberator monster truck), and "Tour the Lake" (locked to the Sovereign motorbike). This event is available from July 1 to July 4.
Independence Day Special content: Rockstar also noted that "GTA 5 Online" players would also be getting the original Independence Day Special content from July 1 to July 11. The event will also have a 25 percent sale offer.
Some of the things that are likely to return and could feature discounts include:
Liberator monster truck
Sovereign motorcycle
Firework Rocket Launcher and its ammo
Independence Day Special patriotic gear, including Hats, T-shirts and more