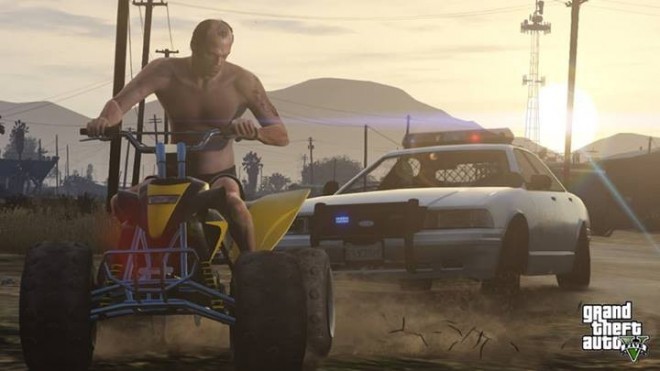 Rockstar has thrown rumours aside and has finally confirmed that the upcoming GTA 5 Online ports for PC and Next-gen ports will not be delayed into 2015.
After the brief scare surrounding rumour that Rockstar will be cancelling the PC port of GTA 5 Online due, another rumour surfaced few days back suggesting that GTA 5 Online's PC and Next-gen ports may have been delayed for 2015 instead of its anticipated release this year, as reported by VG247.
This rumour had created a scare among GTA 5 players who were worried that their long wait for the PC and Next-gen versions might only get longer. Rockstar later came out with a message saying that there is no change in the release date for PC and Next-gen versions.
"I'm also looking forward to the PC release, however this release date has not changed. Please see our support article, 'Grand Theft Auto V Release Date on PlayStation 4, Xbox One, and PC' for the most recent information on this topic," said a post in Rockstar Support.
The support article still says, "GTAV is coming fall 2014 for PS4, Xbox One, and PC."
Radio Update
One new feature that GTA 5 players are likely to get is access to updated or new content for its radio stations on GTA 5 Online.
Cara Delevingne, British actress who had voiced for GTA 5 Online's Non-Stop-Pop FM radio station as a DJ, tweeted, saying that she was back to Rockstar Games for some recoding.
"Back with @rockstargames to update my GTAV radio station Non Stop Pop FM for new versions coming this... " said her tweet. Along with the tweet, she also added a picture of herself at Rockstar Studio.
Though Rockstar has not confirmed or given out any details of the update, it retweeted her tweet hinting at such a possibility.
Activision Acquiring Take-Two Interactive?
A rumour has surfaced on online gaming websites suggesting that Take-Two Interactive, the company associated with distribution of GTA titles and other 2K Game titles, is likely to be acquired by Activision, the publisher of Call of Duty and other game franchises.
Mike Hickey, Benchmark analyst believes that acquiring a Take-Two Interactive would be a "no-brainer" for Activision since it has "strong development talent and owned IP's." He also said that there was "an emerging romance" between the two companies.
He also said that both the companies were looking forward to forming studios to make movies that were based on their games. He added that Take-Two admires Activision's "deep connections to Hollywood."
Previously in 2008, Electronic Arts has offered to buy Take-Two in a $2 billion deal that was rejected by Take-Two Interactive.