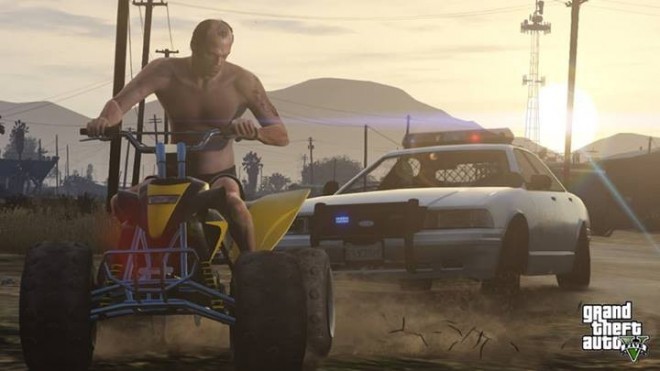 One game mode that fans of GTA Online are waiting eagerly is the Heists mode, which has been delayed since its launch. Fans of the game have some assuring news now. They have discovered the Heists feature in Rockstar's recent update, The Independence Day Special content.
Some members of the GTA 5 community have revealed in GTA Forum their discovery in the source code that shows Online Heist Rewards, Fees, Reward Splits, and Medals. This discovery was possible while they were mining for information in the game's Processing Strings. This mention is significant since The Independence Day Special content was released for the 4 July holiday celebration. Previously too Rockstar has promised that it is still working on Heists.
The source code also has the mention of some of the other things that will be possibly introduced in the near future. Mention of new planes, helicopters and cars were also made.
Though fans have been waiting for the feature to arrive, it is likely that Rockstar might release this along with the upcoming releases of GTA 5 ports for PC, PlayStation 4 and Xbox One.
Suicide Sticky Bomb Glitch
YouTube user, iCrazy Teddy has posted a video explaining the new Sticky Bomb Glitch in GTA 5. He explains in the video that players will have to buy sticky bombs and need a friend or two who can help you with it.
Your friends must be facing your backsides and they must throw the sticky bombs on your back.
The sticky bombs will stick to your body.
Once this is done, head inside the store or to any of the places which needs to be bombed.
Now when you head inside the weapons store, see that you run quickly to the clerk and blast him off or else you will be wasted.
Players will be able to use this on cops or rivals, they want to see dead.
Once you are near your targets, blowing up will kill your opponents, while you might if lucky walk free.
(YouTube Courtesy: iCrazyTeddy)
GTA 5 was released on 17 September 2013 for PlayStation 3 and Xbox 360. Rockstar is expected to rollout PC and new-generation ports sometime in 2014.