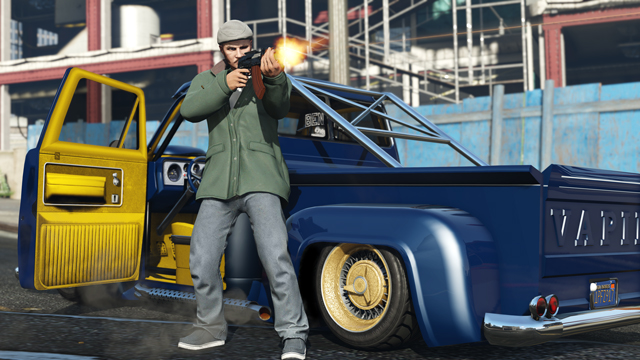 "GTA 5 Online," the popular action-adventure video game from Rockstar, received a new update 1.33 March 15. It added new cars, weapons, custom upgrades, a Sumo Adversary Mode and several new fixes that improves the stability and performance of the game. The update rolled out on PC, PS4 and Xbox One.
Rockstar's update 1.33 lets players purchase a new vehicle, Dundreary Virgo Classic, from Benny's Original Motorworks website, and it can also be further upgraded to Dundreary Virgo Classic Custom.
The players will also be able to upgrade Vapid Slamvan vehicle to Vapid Slamvan Custom and similarly, the Willard Faction vehicle can be upgraded to Willard Faction Custom Donk.
The update also adds new Benny's Bespoke Wheel Types and new Adversary Mode Sumo that will be unlocked at Rank 1. This mode will let players work either in teams or alone where they have to force the opposition out of the designated arena in a limited time.
"GTA 5 Online" players will get their hands on some new weapons, Double Barrel Shotgun and Compact Rifle.
Rockstar notes in its Support page that some new player actions like You Loco, Finger Kiss and Peace have been added to the game.
There are also some new additions to the clothing and accessory segment of the game. More than 120 Lowrider themed clothing items and outfits have been added. The players can also make use of 16 new tattoos. Three new hairstyles are available for male and female characters.
Apart from the new content that was added to the game, Rockstar added a long list of fixes to the game, which includes improvements to reduce loading times, issues with players being unable to modify or sell vehicles, several Yacht issues, issues in adversary modes, gameplay issues and many more.
Rockstar has shared the complete list of fixes in update 1.33 on its support page.