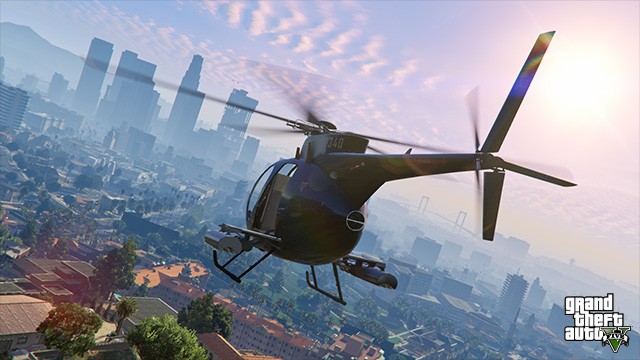 Fans anticipating the next-generation GTA 5 Online will be happy to know that the game will receive some cool new cars and customisation features.
YouTuber DomisLive, revealed in a post the two new cool looking cars that will be a part of the upcoming PlayStation 4 and Xbox One versions of the game. The pictures of the car came from the Rockstar social club, they are the Bravado Sprunk and Dinka Go Go Monkey Blista.
For a long time fans have been asking Rockstar to allow them to add sponsors to the cars. DomisiLive said that Dinka Go Go Monkey Blista could be the car that players will be able to unlock after completion of their side missions.
Some other new leaks were revealed by a Redditor, EzzoMahfouz. The upcoming game is likely to have new customisations that will include neon kits and underglows.
Below is a list of things that will supposedly be included in the game:
Neon Kits: You can attach neon underglowers to your car.
New B/O button cinematics.
Kenny Loggin's infamous Danger Zone has been added to the radio station that he already hosts, Los Santos Rock Radio.
The vehicles that came out with the DLCs are back and spawn regularly parked or driven by NPCs.
The game menu (where the map and settings are) has a completely different font.
Wearing tinted sunglasses in FP changes the colour of vision to the colour of the tint. (Helmet visors too)
New character spawn actions/incidents.
Contains new songs.
Protagonists now have Personal Vehicle Icon on the minimap just like GTA Online.
The game map has a different look in the menu, as if it's morphing with GTA IV's map. The minimap edges have been cut to add some minimalistic translucency to it.
Until now, the only new textures noticed are for: Sand, Grass, Rock, Asphalt, Cars, Guns.
It's official that getting projectile-d out of your car through the windshield in FP is breathtaking.
The Dukes, Stallion and Blista Compact are back.
New protagonist when-idle animations.
Improved vehicle damage.
Field of View/Focus effect added.
Protagonists' phones are given some touches in their designs.
New highway billboards for those who enjoy marketing.
Meanwhile, the Redditor EzzoMahfouz has also revealed the list of new songs that will be part of the GTA 5 Online Radio Station. Below is the leaked song list:
Radio Los Santos:
Chuck Inglish feat. Ab-Soul & Mac Miller - Came Thru/Easily (2013)
Freddie Gibbs - TBA
Gangrene - TBA
Space 103.2:
Teena Marie - Lovergirl (1984)
West Coast Classics:
2Pac - So Many Tears (1995)
South Central Cartel - Servin' 'Em Heat (1993)
The Conscious Daughters - We Roll Deep (1993)
Los Santos Rock Radio:
Eddie Money - Take Me Home Tonight (1986)
Genesis - Land of Confusion (1986)
Golden Earring - Radar Love (1973)
Huey Lewis & The News - Hip To Be Square (1986)
Joan Armatrading - TBA
Pat Benatar - Shadows of the Night (1982)
The Lowdown 91.1:
Smokey Robinson - Will You Love Me Tomorrow? (1973)
Non-Stop-Pop FM:
Backstreet Boys - I Want It That Way (1999)
Bronski Beat - Smalltown Boy (1984)
Jermaine Stewart - We Don't Have to Take Our Clothes Off (1986)
Mike Posner - Cooler Than Me (Single Mix) (2010)
Sly Fox - Let's Go All the Way (1985)
WorldWide FM:
Smokey Robinson - Why You Wanna See My Bad Side? (1978)
Soulwax FM:
Brain 21 - Something For Your Mind (1996)
FlyLo FM:
DOOM - TBA
Flying Lotus feat. Krayzie Bone - Medication Medication (2014)
Flying Lotus - TBA
Trophy List
The complete trophy list for GTA 5 for PlayStation 4 has been released by Gamers FTW. The PlayStation 4 trohpy list will be identical with the Xbox One.Though many are similar to that of PlayStation 3, there are some trophies that are different.
Below is the complete list:
Los Santos Legend
Congratulations! You're Vinewood's biggest star!
Welcome to Los Santos
You repo'd a car and raced it through the heart of a sun-soaked metropolis.
A Friendship Resurrected
With friends like this who needs enemies?
A Fair Day's Pay
It's time for a little getaway.
The Moment of Truth
You have uncovered the truth about Brad.
To Live or Die in Los Santos
Completed the final mission.
Diamond Hard
You cleaned out Vangelico to pay back Martin Madrazo.
Subversive
You stole an experimental super weapon from Merryweather... and gave it back.
Blitzed
You performed a classic blitz play.
Small Town, Big Job
You made a big impression at the Paleto Bay Chicken Festival.
The Government Gimps
You recovered sensitive information from a highly defended federal building.
The Big One!
This ain't no dream no more.
Solid Gold, Baby!
Earn any 70 Gold Medals on Missions, Strangers and Freaks.
Career Criminal
Attain 100% Game Completion.
San Andreas Sightseer
Explore all of Los Santos and Blaine County
All's Fare in Love and War
Purchase Downtown Cab Co. and complete a private fare.
TP Industries Arms Race
Purchase McKenzie Field Hangar and win the arms race.
Multi-Disciplined
Attain a gold medal in all applicable hobbies and pastimes.
From Beyond the Stars
Collect and return all spaceship parts.
A Mystery, Solved
Solve the mystery of Leonora Johnson.
Waste Management
Purchase the old dock and collect all nuclear waste.
Red Mist
Complete all Rampages.
Show Off
Complete all Stunt Jumps.
Kifflom!
Complete your path to enlightenment... or not.
Three Man Army
Survive 3 minutes on at least a 3 star Wanted Level with all three characters together off mission.
Out of Your Depth
You're gonna need a bigger boat...
Altruist Acolyte
Deliver an unsuspecting victim to the Altruist Cult.
A Lot of Cheddar
Spend a total of $200 million across all three characters.
Trading Pure Alpha
Make a profit over your total investments in the stock market.
Pimp My Sidearm
Fully mod a weapon.
Wanted: Alive or Alive
Deliver a bail bond target alive.
Los Santos Customs
Fully mod a vehicle.
Close Shave
Complete all Under the Bridge and Knife Flight challenges.
Off the Plane
GTA Online: Complete the Introduction.
Three-Bit Gangster
GTA Online: Reach Rank 25.
Making Moves
GTA Online: Reach Rank 50.
Above the Law
GTA Online: Reach Rank 100.
Numero Uno
GTA Online: Obtain first place in all competitive game types.
The Midnight Club
GTA Online: Use custom vehicles to win 5 races.
Unnatural Selection
GTA Online: Complete all 10 waves of a Survival.
Backseat Driver
GTA Online: Direct a driver to 1st place as co-driver in Rally Mode.
Run Like The Wind
GTA Online: Survive with a Bounty on your head.
Clean Sweep
GTA Online: Finish a Gang Attack without dying and kill at least 10 enemies.
Decorated
GTA Online: Earn 30 Platinum Awards.
Stick Up Kid
GTA Online: Hold up all 20 Stores.
Enjoy Your Stay
GTA Online: Participate in everything Los Santos has to offer.
Crew Cut
GTA Online: Complete a Job as a member of a Crew.
Full Refund
GTA Online: Kill the thief that mugged you.
Dialling Digits
GTA Online: Call for a Backup Helicopter for the first time.
American Dream
GTA Online: Own an Apartment, Garage and an Insured Vehicle
A New Perspective
You played GTA V in first person mode for 15 hours.