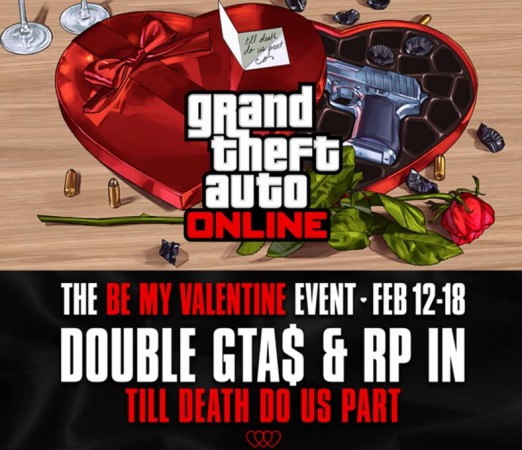 Following the release of the "Be My Valentine" update, Rockstar released double GTA money and RP offer in a "Be My Valentine event" for "GTA 5 Online." The event started on Feb. 12 and will end on Feb. 18, 2016.
Apart from the opportunity to double GTA money and RPs, this event also gives out discounts, unlockable T-shirts and sweepstakes, revealed Newswire.
The new update, "Be My Valentine" had added a new Albany Roosevelt Valor, Gusenberg Sweeper machine gun, Adversary Mode and more. The update was made available only to PC, PS4 and Xbox One.
Players of "GTA 5 Online" will be able to gain double GTA money and RPs by playing the new Adversary Mode Till Death Do Us Part. The players must play as a team otherwise if one goes down the mode will be over. Rockstar has also made available the Till Death Do Us Part Playlist, which these players can join. Taking part in playlists will let them unlock Firework Launcher and Fireworks, provided they complete the entire playlist.
Rockstar advised players to try riding vehicles together and Arm Wrestling to rank fast. Throughout this event period, "GTA 5 Online" will see 50% off on all SMG Ammo for the Gusenberg Sweeper machine gun. So, the players need to head to the in-game Ammu-Nation shops.
The event will also let players canoodle in-game as it provides free entry to Tivoli Cinema, the Ten Cent and Oriental Theatres. The players can also head to Del Perro Pier featuring Ferris Whale and Leviathan roller coasters.
The developer is also offering some exclusive unlockable T-shirts. It will only be available on Feb. 13 and Feb.14 on PC, PS4 and Xbox One.
Feb. 13 - "Nelson in Naples" t-shirt
Feb.14 – "An American Divorce" t-shirt
The players also have a chance to win 1 million GTA money if they participate in the #BEMYVALENTINE Snapmatic Contest and post a snap that captures the essence of the event.
Rockstar is also holding Social Club sweepstakes that will include the scented Epsilon Candle, the Epsilon Pendant, the Loneliest Robot Greeting Card, and a copy of the official Grand Theft Auto V Soundtrack. Players can participate in this event by logging in here.