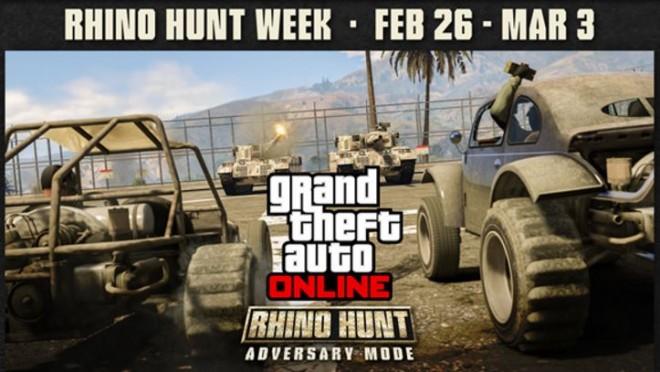 "GTA 5 Online", the popular video game from Rockstar, has a new Adversary Mode called Rhino Hunt. It is currently available in "GTA 5 Online."
Rhino Hunt pits a team of hunters with sticky bombs in dune buggies and other vehicles with a team of Rhino drivers who can use the vehicles' strength and the tanks' firepower to their advantage.
This new Adversary Mode can be played in three different locations, Newswire reported.
Meanwhile, Rockstar has announced a new double GTA money and RP event, named Rhino Hunt Week. This event started Feb. 26 and will end March 3.
Players can jump directly to any of the Rhino Hunt events and earn double the GTA money and RPs.
Apart from this, Rockstar is also offering discounts on weapons and services during this event week. Discounts are offered on:
WarstockCache and Carry – 25% off
Merryweather Services – 25% off
All Automatic Rifle ammo – 50% off
Select Weapon Attachments – 50% off
All Tactical Gear from Heists – 50% off (includes Utility Vests, Rebreathers, Night Vision Goggles and Earpieces)