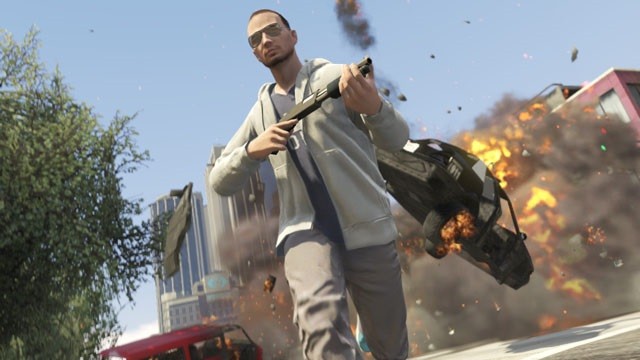 Rockstar Games, the developer of one of the most popular video games, Grand Theft Auto 5 (GTA 5) has announced a reward event for its online multiplayer version, GTA Online which is expected to be launched on 2-3 May where players will be able to double their money and RPs.
(See Also: GTA 5 Unruffled by GameSpy Shutdown but Other Rockstar Games Unlikely; Developer Verifies 4 New Online Jobs)
In its post on Rockstar Newswire, it says that this will help players to "beef up" their bank balance and "boost" their notoriety. All this is in preparation for the much awaited and rumored High Life update that will be releasing in May.
Following are the jobs and activities where GTA Online players will be able to earn double the money and RPs:
Races
Deathmatch & Team Deathmatch
Capture
Last Team Standing
Survival
Missions
Parachuting
Gang Attacks
Hold Ups
Import Export
Losing Wanted Level
High Life update will be adding new high-end apartments, cars and ability for players to purchase more than one property. This update will also allow players to get specify where the vehicle must be dropped when they call for the mechanic. This feature may add the much awaited multiplayer heists to the game, however other websites say it will be added in June. It will also add the Bullpup Rifle in the game.
Previous updates to the game has added ability to design and customize races and multiplayer matches, new game modes, weapons, vehicles, clothing and jobs.
GTA 5 PC Online Petition
The online petition started by fans demanding a PC version of the open world title has crossed its milestone figure of 7 million and is still counting strong.
Currently, the game has 712,861 online signatories who want to see a PC version of the game. But Rockstar has never official said on the possibility of a PC version for GTA 5. The game was released only for PlayStation 3 and Xbox 360 platforms.
(Ed:AJ)