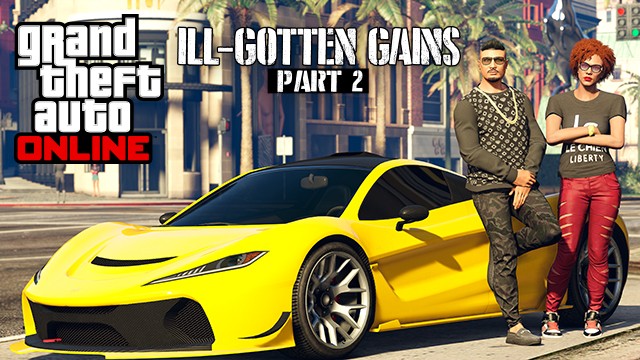 Rockstar had released what it promised for all GTA 5 Online players, the Ill-Gotten Gains Part 2 DLC that will succeed its earlier counterpart, Ill-Gotten Gains Part 1 DLC. The new DLC will be rolling out on all the consoles. At the time of writing, the update was available for download on PC, PS4 and Xbox One.
It must be noted that Rockstar has not released the official patch yet.
Many fans, were waiting for the DLC update and had stayed awake so that they can download and play the game. They have been sharing their frustration and excitement on Twitter.
Rockstar had previously confirmed that Ill-Gotten Gains Part 2 DLC will be getting The Lab radio station that was only available on PC.
It had confirmed vehicles including Coil Brawler (an off-road vehicle), Classic Lampadati Toro (a luxury speedboat), Invetero Coquette BlackFin (classic sports car), Progen T20 (a two-door hypercar), Vapid Chino (two-door muscle car) and Dinka Vindicator (luxury motorcycle).
It had also said there will be two new weapons, the one-shot musket-like Marksman Pistol and Knuckledusters. It had also promised new high-end clothes and accessories.
Reddit user THERAINBOWMUFFIN has revealed the prices of the vehicles and its descriptions:
Coil Brawler – 715,000 of GTA money
Lampadati Toro – 1,750, 000 of GTA money
Invetero Coquette BlackFin – 695,000 of GTA money
Progen T20 – 2,220, 000 of GTA money
Vapid Chino – 225,000 of GTA money
Dinka Vindicator – 630,000 of GTA money
Players also posted spoilers indicating that the Knuckle Duster will come with customisable and styling options. Ammu Nation has nine upgradable options for the weapon.
Twitter user TezFunz2 has revealed the efficacy of the Marksman Pistol. He said that the damage value of this musket-like gun is 220, clipsize is 1, and time between the shots is 2.5. Also the damage falloff range – minimum 45m and maximum is 120m. It was reported that Marksman Pistol cannot be shot from vehicles.
The update has added three new horns for the car customisation. TezFunz2 has also shared that Dinka Vindicator has an acceleration rate of 0.26300, which is better than Lectro. He has also given a comparative picture of Progen T20 and Pegassi Osiris.
Mass - T20: 1395 /Osiris: 1350
Max velocity - T20: 159.3 /Osiris: 159.1
Drive force - T20: 0.365 /Osiris: 0.360
Drag - T20: 10.427 /Osiris: 10.240
A Reddit user, ProtologolusX managedto have a drag race with Progen T20 and Osiris and had this to say:
Osiris and T20 pretty much have the same acceleration. They both finished the drag race in 23 seconds.
T20 has worse traction than Osiris. Maybe 10% worse.
T20 got much better brakes, about 30% better than Osiris. Better than reading.
Meanwhile, the new update does not have Mansions or Casino that were rumoured for long time.
New Clothes and Accessories
Twitter user TheGTABase has shared details of the new high-end clothes. It includes brings three new styles of upper wear for males, two pair of new shoes (Loafers), new chains, earrings, watches and scarves.
Players owning different cars, from different car manufacturers of more than 30 cars are likely to be awarded "Showroom" special T-shirt.
Some of the new upper-wear styles for males #illGottenGains2 #GTAOnline pic.twitter.com/gbmPen82fD

— GTA Base (@TheGTABase) July 8, 2015
Showroom Award + T-Shirt now unlockable #GTAOnline #PS4share pic.twitter.com/pOeZ0wTxDD — PrE233 (@PrE233_GSVS) July 8, 2015

New watches #GTAOnline pic.twitter.com/ww2t4g8rOC

— Phylisity (@Phylisity) July 8, 2015