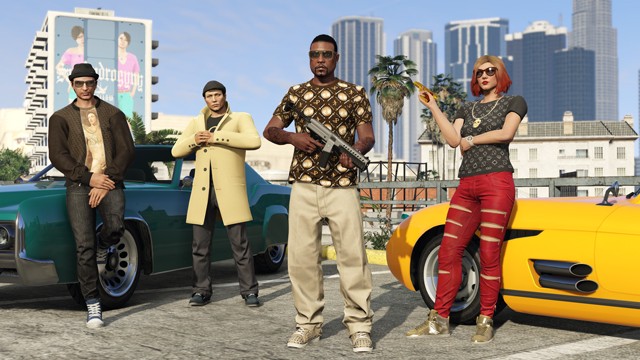 GTA 5 fans have being increasingly pegging their hopes on Ill-Gotten Gains Part 2 DLC that is most likely a follow up to the recently released Ill-Gotten Gains Part 1 DLC update to GTA 5 Online.
Ill-Gotten Gains Part 1 DLC was a huge update that brought in not only fixes but also banned many fans who indulged in vehicle duplication. It brought in new content to the game with high-end vehicles, weapons and accessories.
It brought in Enus Windsor, Buckingham Swift Deluxe, Buckingham Luxor Deluxe Albany Virgo Benefactor Stirling GT and Pegassi Osiris to GTA 5 Online.
Hidden Mission in GTA 5 Online
Fans of GTA 5 have been constantly digging for new information in the popular game. One such fan has found hidden missions in GTA 5, a post from Reddit user, NoobVaper said.
The post lists eight such missions with the ninth one being removed. Players can however get access to these only by going into the hidden corona, which is visible on the minimap and at a specific time.
Below are the missions:
Close Action (Trevor) - Grand Senora Desert, 4 Players, Level 35, 12pm to 8pm
Coasting (Madrazo) - East Los Santos, 1-4 Players, Level 25, 8pm to 6am
Coveted (Madrazo) - Chiseki Mountains, 1-4 Players, Level 36, 12am to 8am
Crystal Clearout II (Trevor) - Grand Senora Desert, 1-4 Players, Level 16, 3pm to 11pm
Crystal Clearout III (Trevor) - Grand Senora Desert, 1-4 Players, Level 40, 7am to 3pm
Dirt Road (Trevor) - Zancudo Bay, 1-2 Players, Level 19, 2pm to 10pm
Factory Closure (Lester) - East Los Santos, 3-4 Players, Level 18, 7am to 5pm
Potshot (Trevor) - Grapeseed, 1-4 Players, Level 25, 4am to 12pm
These missions "may or may not sometimes show up on the mission voting screen," said the post.
Independence Day DLC Not Coming?
As the Independence Day for the US closes in, speculations have risen on the possible Independence Day DLC coming for GTA 5 Online. However, YouTube user, DomisLive sharing his opinion on the DLC said that there might not be any Independence DLC for the game. He bases his argument on the premise that Rockstar has not recreated any DLC apart from Christmas DLC.
However, Ill-Gotten Gains Part 2 DLC is one that might release.
Customisable Air Jets, Vehicles and Helicopters – Colour Changes
We all know how the recently released Ill-Gotten Gains Part 1 DLC burns a hole in our pockets, as its high-end Luxors cost 10 million in GTA money. Many fans were hoping that Rockstar would give them the option of customising these high-end vehicles that we buy, but it was not provided in the game. You have to do with the Gold coloured vehicles.
YouTube user, LispyJimmy has shared a video where he shows that Rockstar might be hinting at a change. He noticed that one of the several images that appear on the loading screens consists of the line up of all the high-end vehicles in the game but in the colour pink. So he speculated that Rockstar could bring the customisable feature in GTA 5 Online's next Ill-Gotten Gains Part 2 DLC.
Easter Egg has a Secret Bedroom, Niko Bellic and CJ
Easter eggs have been a part of the GTA games for some time now and it is definitely not surprising if players find any new ones. YouTube user, NoughtPointFourLIVE has shared a video, that shows three new Easter eggs in GTA 5 Online.
Thanks to members of GTA Forums who posted a picture that was on the wall in Solomon Richard's office that shows Nico Bellic, the protagonist in GTA 4 being part of the gang.
Another Easter egg is a secret room that is underneath the map. This is a hotel room. However the Easter egg has reportedly been patched.
Here is another Easter egg that is inside Franklin's house. There is a CJ's toothpaste in the bathroom of Franklin's aunt's house.
Apple Logo
One Reddit user, Camper1995 has found an Apple logo in GTA 5 Online. Check out the picture here.
Windmills Glitch – How to Activate It?
Fans have notices a strange glitch with the windmills in GTA 5 Online. This glitch was observed when the structure is brought down using a heavy vehicle. Even after it's downed, the fans of the windmill keep rotating.
A Reddit user, HighDiveYT has shared a post that lays out five steps to knock out windmills and activate the glitch.
Step 1: Your going to need around 3-5 sticky bombs, and a large vehicle.
Step 2: Find a running windmill with a construction tower behind it.
Step 3: Place sticky bombs around the base of the windmill, and on two sides of the construction tower.
Step 4: Blow the sticky bombs up.
Step 5: Take your large vehicle (Insurget, Bus, Dumpster Truck) and ram it into the windmill. Repeat this process until the windmill is knocked over.
(YouTube Courtesy: HighDive)