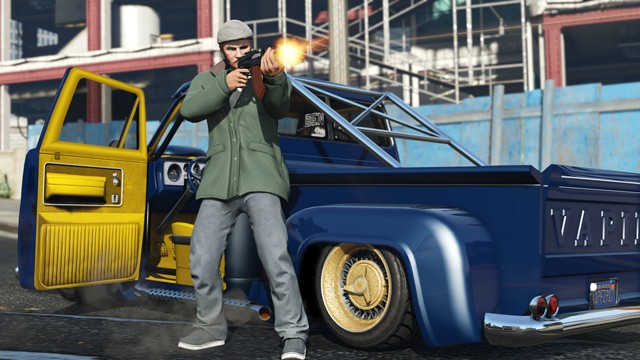 For all avid Grand Theft Auto 5 (GTA 5) loyalists, it would do a world of good to obtain information with respect to secret in-game tricks, glitches and tips that allow for a comparatively effective online multiplayer experience. These are generally hidden aspects and require thorough in-game exploration. Now, the hidden aspects have been decoded.
Popular YouTube game tipster MrBossFTW has now come out with a list of tricks and hidden features, via a new video (given below), that can be used for having fun, doing crazy in-game stuff and even playing pranks with friends in GTA Online. Check these out below:
Secret Stuff 1: Navigate to Vespucci beach. Then go left towards the volleyball court where you will find a water body. This water body is a treasure of multiple in-game properties. Once you get inside, use a rocket launcher and shoot at the bottom; see that this area does not get blown up. You should notice projectiles from within the water body bouncing up and exploding. You can obtain new homing launchers from this area.
The projectiles, while exploding, give off multiple colour effects that are good to look at. You can show off this secret effect to your friends.
Secret Stuff 2: This takes advantage of a launch glitch in another location. To exploit this, you will require a tank and insurgent pick-up. Find an open area, for example, the Los Santos International Airport or Trevor's Airport, according to MrBossFTW.
Once in the open area, ensure that your tank and insurgency pick-up face each other. Then drive towards the other vehicle head-on. The tank needs to have its canon either towards the left or the right to hit the insurgency vehicle head-on. After the collision, both the vehicles fly a great distance in the air vertically without blowing up, thus exploiting the glitch.
Secret Stuff 3: This explores easy removal of sticky bombs. To remove sticky bombs, long press down on D-pad and scroll to single-player characters and select one. Then, choose No when the leave GTA online window appears. After this, the sticky bombs will be removed automatically.
Secret Stuff 4: Use a monster truck, and then run over a motorcycle/ATV rider. You will notice that the run-over motorcycle driver will still remain intact without being crushed. Weird, isn't it?
Secret Stuff 5: You can use your in-game smartphone as a shield from bullets. Notice that if a person has held his/her phone in your way and you shoot them, your bullets only hit the phone and not the body of the person. This makes the holder of the person practically invincible. Try shooting the person's lower body parts — you will only waste your bullets without causing any bodily harm.
Secret Stuff 6: Navigate to an area that is on the police's radar. Then call in the police. Once the police personnel arrive in their car, pull the driver out and get in. When the passenger in the car, and the police, freak out, step out and immediately get into the driving seat of the car again. Observe that you will be able to steal the car without the police/passenger freaking out. You can enjoy a good ride with the police turning a blind eye to your adventures.