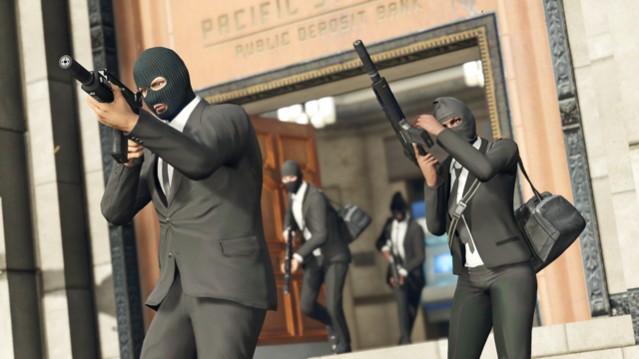 Rockstar's new patch 1.08 for GTA 5 Online had reportedly affected PS4 and Xbox One system with players reporting of graphics downgrade to the game as visible in the YouTube video.
However, Rockstar reiterated that it was working on a fix and it posted the following statement, "We are aware of some graphical issues on the Xbox One and PS4 versions of GTA 5 after the most recent Title Update, and we are investigating a fix now."
But soon after many of the issues were reportedly fixed in patch 1.09, but according to YouTube user ElAnalistaDeBits, the new update resolved collision physics and deformation and distance pop-in, but parallax occlusion mapping and texture filtering were still not worked upon by Rockstar.
So the reason for the graphics downgrade in GTA 5 Online was due to the removal of Parallax Occlusion.
"Losing parallax occlusion mapping is a blow though, particularly if you're using the first-person perspective mode, where the effect is much more pronounced than the standard third-person viewpoint where the omission of the effect isn't so noticeable. If it is a straight trade of POM for frame-rate, we would take the smoother overall performance," reported Eurogamer on its analysis of Parallax Occlusion removal.
It goes on to say that the removal was due to a bug.
"Our gut feeling here is that the removal of POM is a bug, and hopefully one that will be rectified in an upcoming patch," the article said.
It added that PS4 users get smoother performance, but without the neat visual effects, and Xbox One users get "the removal of parallax occlusion mapping and no noticeable improvements to fluidity whatsoever. The minor frame-rate drops at junctions remain, but the more impactful dips when heavy transparency effects are in play are unchanged from the launch version."
The report said it hopes that Rockstar released 1.09 quickly and as a placeholder for broader update 1.10 patch.
Title Update 1.23/ 1.09 Improves Heists
Rockstar released title update 1.23/ 1.09 to make some improvements in the Heists for GTA 5 Online. The new update adds new option for Heist Planning Board that will allow them to join Heist quicker. It has also made improvements on the 'auto-invite' match-making option.
Below are the full patch notes of the new title update for GTA 5 Online (Rockstar Support):
New Features / Updates
Changes have been made to the match-making options and UI. This affects:

Heist Planning Board

A new option has been added to the Heist Planning Board that will allow you to press Left on the D-pad to quickly join a Heist as a crew member. You must have an active Heist in order to access this feature.

Heist Lobby

A "Matchmaking" option has been added to Heist lobbies that allows the Host to quickly change whether matchmaking is open or closed. When set to "Closed", only invited players can connect with the Heist lobby. This option is "Closed" by default, which means only players you invite can join the session.
The "Client Invites" option has been reinstated for the host of the lobby that is "On" by default. This allows players that have joined the Heist to invite their friends. If you only want the host to be able to send invites, "Client Invites" should be set to "Off".

Improvements to the "Auto-Invite" matchmaking option to help fill lobbies faster
Improvements to matchmaking for Heists to fill lobbies faster
Miscellaneous Fixes
Fixed a minor animation issue when throwing grenades while aiming on the PS4
Fixed an issue where the Bad Sport flag was not correctly being removed from certain players' accounts
Fixed an issue where vehicle frames were not visually displaying damage correctly when heavily damaged
Fixed an issue where a black screen was appearing when PSN was down
Fixed an issue where the "Looking for job" display was being removed after accessing the Internet from the in-game phone, even though matchmaking was still in progress
Fixed an issue where the player could lose control of character after backing out of hacking the vault in one of the Heists
Fixed a rare issue where the player could get stuck on a cut-scene if launching a certain Heist while in Ron's Survival introduction
Fixed an issue where Criminal Mastermind progression was occasionally not tracking properly
Fixed an issue where players could spawn multiple parachutes
Fixed an issue with the time of day on one of the Heists
Fixed a possible crash when a One on One Deathmatch was initiated around the same time as a Heist invite
Fixed an issue where a Kraken could be replaced by a Dinghy after receiving a Title Update
Fixed an issue where a previous fix for character appearance changes was not applied correctly if the player was wearing a mask
Fixed a rare issue where players could get stuck on a black screen when trying to enter GTA Online
Fixed an issue where the objective could display incorrectly after evidence was picked up in one of the missions
Fixed a rare issue with lost player control after accepting a cross-session invite
Fix for issue where some players were experiencing freezing when trying to use the in-game cell phone in Story Mode
Fixed miscellaneous recent exploits
Other minor fixes for GTA Online and Story Mode to improve general stability