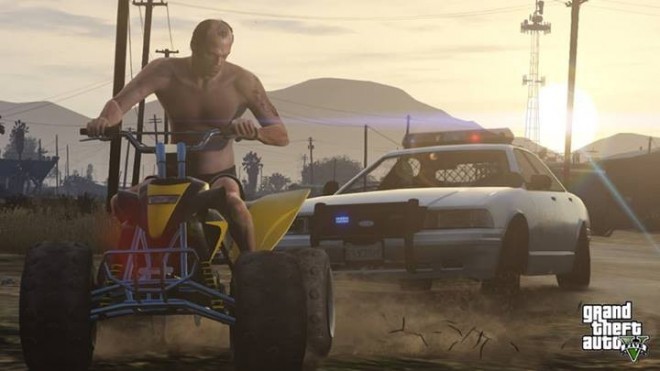 YouTube and online websites are abound with the rumours of the release date for GTA 5 Online Heists DLC. This DLC which is part of the 1.16 Update will introduce new gaming content for players who have been waiting for the release for nearly a year. The update is likely to be released soon.
The GTA 5 Online Heists DLC is rumoured to contain casinos, Zombie DLC, Assassination modes, CIA missions, Flying school, Cops N' Crooks and more. It has been also rumoured that 1.16 Update will be fixing a lot of money glitches that has been allowing players to not only make the extra money but also been the source of fun and excitement.
YouTube user, DomisLive has leaked information on the release date for this upcoming Heists DLC. Based on the source code leaks, that had code strains showing payouts titled 'Heists Finale Total Cash Take' with a minimum of $100,000 and a maximum of $1,500,000.
Their information also revealed on some of the player roles like parachutist, sniper, hacker, hired gun and leader in update 1.16.
DomisLive reveals the possible release date for the Heists DLC as either 12 August or 19 August 2014.
However, though they would prefer the update to contain the Heists DLC. It has been rumoured that the upcoming DLC will be a single-player DLC and DomisLive and other fans would certainly welcome anything new in the single-player version. They also said the Flying school DLC was over-rated and hoped they get Zombie DLC in an online mode and not just a single player.
(YouTube Courtesy: DomisLive)
Reasons for Delay
Rockstar had promised GTA 5 players that they will be getting Heists at the time of its release, but even after so many updates and DLC this content has been conspicuously missing. When it released the details for the "I'm Not a Hipster" update it apologised its fans on the delay in releasing the update.
"We know many fans have been eagerly awaiting the release of the Online Heists that we had planned to release for you this spring, and they are taking more time to create than originally anticipated. We are very sorry for the delay, and are working hard to bring them to you as soon as we can," said Rockstar. So we know that Heists DLC has been in development.
YouTube user Ravil Khan posted a video giving out the reason for the delay in the release of Heists DLC. He gives out two important reasons based on Rockstar interviews.
Money Glitches
DNS Lobby
Khan says he and some of his friends have taken upon themselves and have stopped posting videos on money glitches as it was delaying the release of Heists. He says Rockstar was concentrating all its energy in fixing exploits and DNS servers that they invariably delay the DLC.
(YouTube Courtesy: Ravil Khan)
Next-Gen and PC Release Rumoured For November Release?
In what seems like a leaked release date for the confirmed and upcoming GTA 5 release for PC, PlayStation 4 and Xbox One, none other than the online retailer Amazon listed the game's release date as 14 November for Germany, VG247 reported.
Since the listing was spotted, Amazon Germany removed the date from the page. This is also not the first time that the November has been the preferred release date for the game. Two other retailers like GameSeek and Coolshop had also revealed November as the released date for the next-gen and PC version of GTA 5.