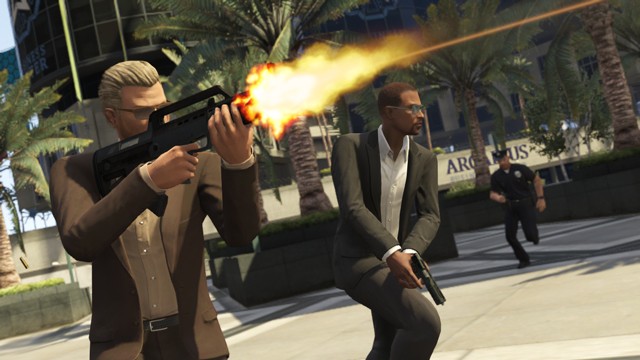 GTA 5 Online Heists DLC is likely in development if we believe the video from YouTube user Chrom3xMoDz who posted it. This will give fans some relief, however, Rockstar on its part has not yet made it official if the Heists DLC will be rolling out any time soon. But the leak indicates that Rockstar is still working on it.
Chrom3xMoDz shows nearly 104 animations with its folder names and file names on the location of these leaked images that is strung into a video. Fans speculated that this could be a campaign heist in GTA Online. The video shows animations for prone, grab, kill, drop, rappel, sit and more.
(YouTube Courtesy: Chr0m3xMoDz)
Previously, YouTube users have revealed a Single Player DLC with Casinos, CIA missions and Assassination mission. These users mined up the game's source code that revealed them new data like the Single Player DLC that clearly mentioned Casinos and more in some code strains. This was not all they found. They pepped up the excitement of fans by showing other source code strains that hinted on Zombie DLC content.
Rockstar had previously promised fans that Heists content was coming in Spring Update, but it was later delayed and the company has already apologized for the delay.
God-Mode Glitch
The God-mode glitch provides players with an insane level of protection, which can be used to defend themselves from almost anybody, especially cops in the video game.
Call Lester and ask him to get the police to turn a blind eye on you.
Wait for the timer (on the bottom right hand corner) to get below 20 seconds (even below 10 second mark is good enough)
Pull out your in-game cell phone
This will let the timer in the game to freeze completely
The God-mode has started. This will allow players to run supreme without earning them any star, or cops tailing you
(YouTube Courtesy: Chr0m3xMoDz)
YouTube user Trippy GlitcherHD has suggested another way to activate God-mode glitch. Below are the steps players need to follow:
Take out your in-game phone and go on Dynasty website
Buy "0754 Roy Lowenstein Blvd"
Head directly to the garage in the new property
Make sure that you will have a Zentorno in the garage
Then press 'Y' in case of Xbox console and triangle in case of the PlayStation console when you are near the door.
So when you hit it right, and you see the character going to his seat and sitting, unplug your batter pack (for Xbox) or manually turn off the controller (for PlayStation).
Now reconnect your controller
Players will see that they would have spawn somewhere outside the garage and now the God mode glitch is activated.
Players must make sure that they do not enter Los Santos Customs, do not choose kill yourself option and do not load up a mission.
(YouTube Courtesy: TrippyGlitcherHD)