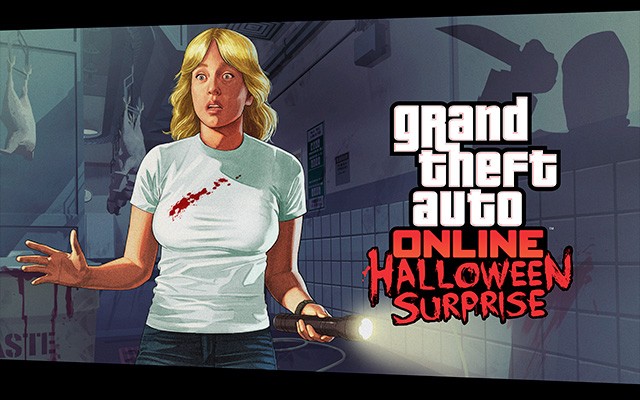 GTA 5 Online players can have a spooky Halloween 2015 as Rockstar announced a new Halloween Surprise DLC for PC, PS4 and Xbox One versions of this popular video game. This Halloween DLC promised to bring with it two new cars, new masks, face paints, bobbleheads and Slasher Adversary mode.
And as has been the custom, GTA 5 Online players have been offered with a new Halloween Event Weekend that starts on 30 and will be available till 1 November.
Playing this weekend event will garner GTA 5 Online players with exclusive unlockable t-shirts, #Halloween Snapmatic Contest, Halloween Sweepstakes Giveaway and the new official Event Playlist with Slasher Adversary mode, Rockstar announced on Newswire.
Event Playlist: Making better of the new Slasher Adversary mode, part of the Halloween update; Rockstar adds Event Playlist with three different game mode variants. These will be made accessible via GTA 5 launch screen. The new Adversary mode will be pitting a Slasher walking with a shotgun against up to 8 players armed with only a Flash Light, a melee weapon.
Exclusive T-Shirts: Participants of Rockstar's Halloween Event Weekend for GTA 5 Online will be getting unlockables – exclusive t-shirts imprinted with images from Vinewood's best Slasher movies.
Knife After Dark – Friday, 30 October
Psycho Swingers – Saturday, 31 October
Zombie Liberals From The Midwest - Sunday, 1 November
#Halloween Snapmatic Contest: Social Club members can take pictures from the in-game cell phone featuring scenes from Halloween Surprise DLC and post it on Snapmatic to Social Club (by 1 November night) with the tag #Halloween onthe Social Club.
Winners will be announced in Newswire and they should be ready to earn some extra incentive.
Halloween Event Sweepstakes: Rockstar is offering the players with five special Social Club Event Weekend Sweepstakes Prize Packs, where each of it will have three different costumes, like the Bugstar boiler suit, the Merryweather t-shirt and the Los Santos Lifeguard t-shirt. Also being offered is GTA 5 Body Bag Sleeping Bag, Epsilon Program candle and GTA 5 stickers.
Meanwhile, Rockstar will also be live streaming a video featuring special guests WILDCAT, Lui Calibre and Swiftor on Twitch and YouTube. The guests will be joining Rockstar Broadcast team to play Slahser Adversary mode and more on 31 October (5pm Eastern).
Rockstar also announced that the lucky viewers streaming this will get exclusive in-game t-shirts. There will be eight such t-shirts that will be available. But each winner gets only one reward.
As for Twitch winners, the t-shirts in offer are The Meathook For Mommy, Vinewood Zombie, Hot Serial Killer Stepmom and Cannibal Clown t-shirts.