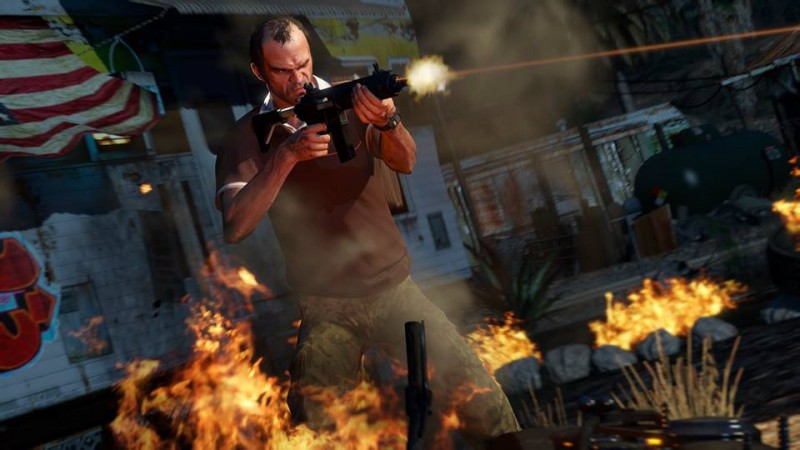 Rockstar's popular GTA 5 Online, since its release, was one of the most played games. Adding to this, the company behind it has always been giving out new content to its players so that the gamers are not bored with the same content.
The developer recently released Executives and Other Criminals DLC and followed it up with Festive Surprise 2015. The Executives and Other Criminals DLC added a new Super Yacht and the ability for players to become VIPs that allowed them to manage a criminal organisation. The Festive Surprise 2015 added several Santa masks and other accessories to help gamers celebrate the Holiday season in-game.
Below are some guides that will help players to unravel some rare and hidden vehicles, fix freezing issues and fix distance texture rendering problem or to destroy a tank.
Guide to access Secret Rally car
Here is a guide shared by Gamepur that reveals a rare secret Rally car which can be accessed with the help of hidden customisation in the game. This car is Karin Rebel Rally Truck that many players have missed out or overlooked it. The game shows two such trucks, one that has a cleaner exterior and another that has a rusty exterior; one is found near the Quarry or in Sandy Shores.
Players can also purchase the vehicle at www.southernsanandreasuperautos.com for 3000 GTA money. They can pick the rusty version and head for Los Santos Customs. They will find that there are some hidden modification for the truck, that includes front bumper, bullbars and bed options.
Guide to fixing Freezing issue for Razor users
Here is a freezing fix that was shared by Gamepur for GTA 5. The freezing issue caused by a Razer Software called Razer Surround.
There are two ways to tackle the issue, simple and advanced.
Simple fix
Step 1: Open the Task Manager (Ctrl+Shift+Esc or Ctrl+Alt+Delete)
Step 2: Look for 'RzSurroundVADStreamingService" or "RazerSurround VAD Streaming Service" and End it
Step 3: Now open Control Panel and Uninstall the program
Step 4: Launch the game and the issue is solved
Advance fix
Step 1: Open the Task Manager (Ctrl+Shift+Esc or Ctrl+Alt+Delete)
Step 2: Look for 'RzSurroundVADStreamingService" or "RazerSurround VAD Streaming Service" and End it
Step 3: Go to Control Panel and open Appearance and Personalization -> Folder Options -> Click View tab -> Under Advanced settings
Step 4: Click show hidden files and folders, and click OK.
Step 5: Open the Folder where the Razer is installed and delete the folder of where the Razer Surround file is located. For example, the file is located at C:ProgramDataRazerSynapseDevices once you go over through devices there is a folder called "Razer Surround" delete that file and the freezing should be gone.
Step 6: Launch the game and the issue is solved
Guide to fix distance texture rendering issue
Many GTA 5 players have complained about the distance texture rendering issue when they try to drive the car or a plane. They have faced this issue with the texture becoming pixelated and blurred.
Gamepur has shared a fix to this issue. It says there are two ways to deal with this, one that involves the Task Manager and another by using external software.
Players can first try with Task Manager and then if the issue still persists they can download the software and try fixing it.
Step 1: Load your game into only the main menu.
Step 2: Press 'ALT-TAB' to Windows.
Step 3: Open Task Manager and Right click on Grand Theft Auto 5
Step 4: Select Details from the menu
Step 5: Set the priority to 'High' for GTA5.exe.
Step 6: Congrats! The game world will render how it is supposed to be.
Step 7: If the Issue Continues then redo all steps again.
In case players need a permanent fix, they can download the System Explorer Software. This software lets players monitor the systems for its performance. It will allow players to save the process as priority and keep that same setting when the program is launched in future.
Guide to tank destruction
Here is a guide that was shared by Gamepur that allows players to take down a tank in a easier step by step process.
Step 1: Get a motorcycle
Step 2: Put five sticky bombs on it
Step 3: Get yourself on motorcycle and ride towards the Tank
Step 4: Call Lester to off the Radar
Step 5: When you are about to reach it press G to explode it, here you may either find yourself died or jump before pressing G, but it will totally worth it.
Step 6: Mission Accomplished!
Millennium Falcon and Star Destroyer Mods added
The craze of Star Wars is catching up in GTA 5 too, thanks to the record breaking collection of "Star Wars 7: The Force Awakens." Players can install both Millennium Falcon and Star Destroyer as mods.
PC Gamer shared a video that shows how players can use it to travel around San Andreas. But they have to be warned that they will not be finding any unique controls for these two mods since these are only the re-skinned version of the fighter jet in the game.