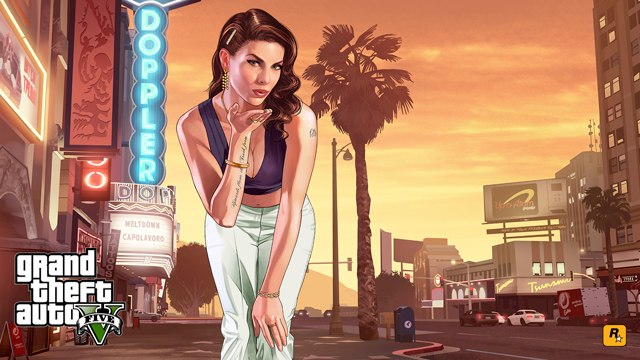 Upcoming GTA 5 Online for PlayStation 4, Xbox One and PC are likely to have some new features including first-person mode for vehicles and players are on foot, reports suggested.
The information comes directly from Rockstar, but there has been no confirmation from the company. Apparently, a post on Rockstar's Support page listed out the new features that will be made available in the new game. But the post was entirely taken down.
However, user on GTA forums managed to keep the details of the post alive by taking screenshot of the post (the Google cached page now shows an Error message).
The new details revealed that apart from the first-person mode for driving (showing the interior of the vehicle like speedometers, tachometers, dash lights, and more) and walking, there will be new animals that will be roaming Los Santos, with addition of Easter eggs, random events for Story Mode, players will be getting free new weapons and a free garage in GTA Online if they transfer characters from Xbox 360 and PlayStation 3, there will be new overhauled character selection screen.
It also mentioned that GTA 5 will be making full use of the power of next-generation and PC hardware. It will have "stunning new level of detail." It will have "increased draw distances, finer texture details, denser traffic, and enhanced resolutions all work together to bring new life to the cities, towns, deserts and oceans of Rockstar North's epic re-imagining of Southern California."
It will also be including new Jobs, range of new weapons, new vehicles, properties and player customisations. It will also be having a video editor for advanced movie-making.
The first-person mode on vehicles will allow players to take some good snapshots, this feature will definitely make the game fun to play.
However, fans and players have been critical of new features in GTA 5 Online after the dismay Rockstar has caused with delay in the Heists DLC update.
"It wouldn't be an exaggeration. It would be an outright lie. Like saying heists by the end of spring..." said a Redditor, R88SHUN.
GTA 5 for PlayStation 4 and Xbox One will arrive on 18 November 2014 and PC version will arrive on 27 January 2015.
ISIS Recruitment Video uses game Footage
One of the most violent active jihadist group operating in Syria and Iraq, ISIS, also known as ISIL or IS, have according to a report by The Telegraph used GTA 5 videos for recruiting young Islamic fighters into the group.
The terror group's logo is displayed throughout the video, and features virtual fighters attacking US troops and convoy while shouting "Allahu Akbar!" There are also scenes showing military and police characters by characters that are dressed as civilians. The video also shows the use of improvised explosive devices for detonation of passing convoys.
The video claims to "raise the morale of the mujahedin and to train children and youth how to battle the West and to strike terror into the hearts of those who oppose the Islamic State," according to the report.
"The video opens with a message that read Your games which are producing from you , we do the same actions in the battlefields !!" GameSpot reported.