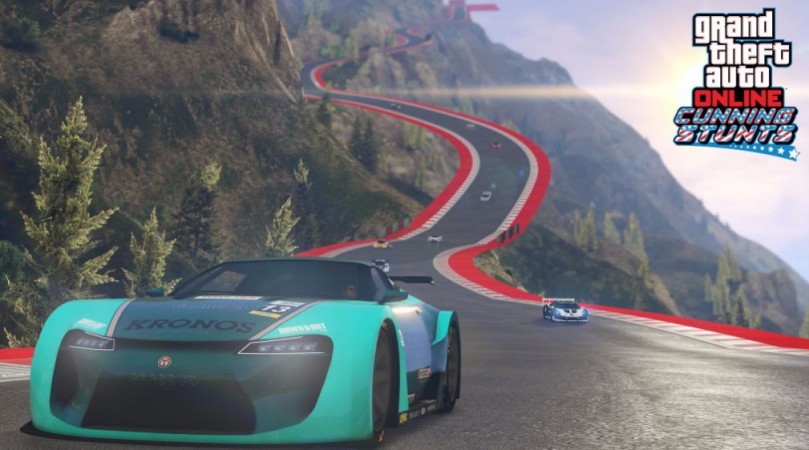 "GTA 5 Online," the popular action-adventure game from Rockstar, gets Stunt Race Creator update, as promised by the company a few weeks back.
The Stunt Race Creator has been added to the GTA Online Creator tool, letting players build and share their own custom stunt tracks. This update also features options for Standard, GTA, Rally and Non-Contact Stunt Races.
The new update promises players actions such as snapping and stacking objects together, and ability to make branching tracks. Players can add Raised Tracks, Tubes, Loops and more to make the tracks difficult.
It also offers over 250 new Stunt Props, which will allow players to create unbelievable level of race track customisations in "GTA 5 Online." Players can add obstacles like flaming rings, speed boosts, oversized soccer balls, bowling pins and more, making the tracks really dangerous to race.
The official Newswire post revealed a new Adversary mode to the game, called Entourage, that tasks Bodyguards to guard and transport well-armoured and armed Target to a designated Extraction Point. The Bodyguards need to have tactical teamwork in place as they would be attacked by Assassins who are tasked to neutralise the Target.
The Stunt Race Creator update is available on PC, PS4 and Xbox One.
Double GTA money and RP week
Rockstar has announced double GTA money and RP week from Aug. 2 to 11. This will allow players making use of the new Entourage mode to earn double GTA money and RPs.
The event also brings discounts to tattoos and clothing. A discount of 25 percent would be offered on Cunning Stunts Tattoos and Cunning Stunts Clothing.
Secret features
YouTube users have noticed that the game includes some secret features. Here are the ones that have been listed:
Stunt Props are capped at 150.
New Props are available in other land races, which allows old land races to be modified.
Players will be unable to remove annoying world props like road signs and more.
Rockstar could add company verified races in the days ahead.
Props can only be added to existing land races but not to previously built sea or air races.
Rockstar has capped Stunt Props only to Stunt Race Creator.
Speed boosters or slow down strips can be set to different intensities like weak, normal, strong, extra strong and ultra strong.
Players can also add different sound and audio settings.