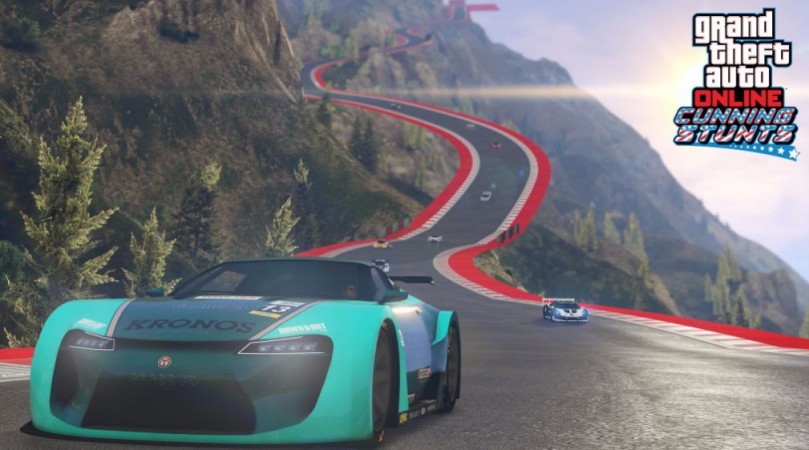 "GTA 5 Online," the popular action-adventure video game from Rockstar games, has received new content to its Cunning Stunts DLC, noted a post on the official Newswire page.
The new content is expected to boost adrenaline levels of gamers, as Rockstar aims to make the game more daring and action-based than before.
The five new Stunt Races that have been added are:
Chiliad: Reckless Super car enthusiasts in "GTA 5 Online" can race to the peak of San Andreas.
The Wave: This is a coastal Stunt Race for bikes.
Vespucci: The Los Santos coastline gives players the perfect backdrop to this Super car race, where players are forewarned of mistakes which might mean life and death for them.
Over the Bridge: This jump-heavy point-to-point Stunt Race is expected to ensure that players make good use of their superbikes.
H200: This race with Sports cars features a race track near the ocean, with Rockstar advising players to bring their bikini bottoms.
Rockstar has also offered players three new vehicles, which will be available from the San Andreas Super Autos website:
MTL Dune: This off-road vehicle (which comes in two variants — $1.3 million and $1.85 million) is helpful in navigating the Blaine County countryside.
Bravado Sprunk Buffalo: This vehicle (costing $535,000) is handy to tackle Stunt Races and features branded livery.
Vapid Contender: Big on size and built for all terrains, Vapid Contender (costing $250,000) features balanced suspension. This is a vehicles tailored for active Executives and VIP missions.
Defects identified in MTL Dune, Sprunk Buffalo and Vapid Contender
Given the fact that MTL Dune is a Pegasus vehicle, GTA tipsters can't see why it was introduced, as players won't be able to use it in the Stunt Races.
Pointing out some of the defects with the vehicles, they noted that this huge vehicle does not fit into the garages and is not customisable.
Tipsters like MrBossFTW have concluded that it is a "worthless" Pegasus vehicle as it does not even feature armoured protection. There is no bulletproof resistance to the windows and it can fit only two people.
Sprunk Buffalo hits a home run on livery customisation, but is an expensive buy. The vehicle, though fun to use, does not win races. There are other Sports cars that players can buy to win races.
Vapid Contender lacks full scale customisation options. It allows smaller upgrade options, like removing the back roof cover. But this is the fastest SUV in the game and is in the buyable price range. It also features bullet-proofing on its windshield. But it cannot be used in any Stunt Races, unless anyone creates it.
How to make away with GTA $100,000?
Players have a chance to make away with GTA $100,000 money if they win this weekend's (July 29 to July 31) Premium Race, the H200 Stunt Race for Sports class cars.
Bonuses – Double GTA money and RPs
Rockstar has been offering double GTA money and RPs in all the Stunts Series Races, beginning on July 27 and ending on July 29.
There are two ways in which players can get into these races, one is via the pink Stunt Series blips on the "GTA 5" map, and the other is by jumping into Stunt Series directly via "GTA 5" loading screen.
Discounts
Yes, Rockstar is also offering discounts on select products, which include 20 percent off on all vehicle Resprays and Neons, 30 percent off on Buckingham Nimbus Jet and Volatus helicopter.
Players have a chance of winning the flamboyant Gold Jumpsuit if they log into the game any time between July 26 and Aug. 1.