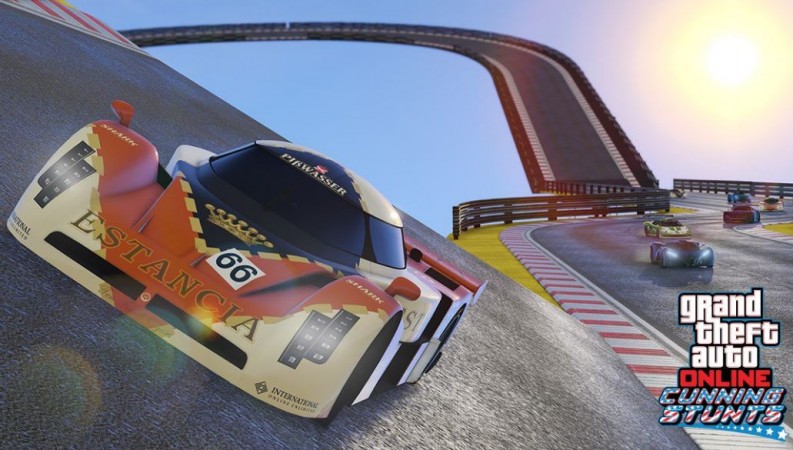 "GTA 5 Online," the popular video game from Rockstar, announced that Cunning Stunts, a set of 16 new Stunt Races, were released. These races are held at some of the most unique range of locations in San Andreas.
If we look at the locations where the Cunning Stunts are held, reveal the locations Canyon Crossing, City Air, Downtown Loop, Duel, East Coast, Maze Bank Ascent, Nightlife, Over and Under, Plummet, Racing Alley, Rally, Splits, Threading the Needle, Trench I, Turbine and Vinewood Downhill.
The post on Newswire notes that the elite drivers in "GTA 5 Online" will get what Rockstar calls, "Premium Races." These races like players to battle against seven opponents. Competitors completing the race will be rewarded Triple RP. Premium Races will see specific vehicle or vehicle class being a set criterion for all players.
Tuesday, July 12th: Maze Bank Ascent (Sports)
Wednesday, July 13th: Duel (Muscle)
Thursday, July 14th: Splits (New Vehicle - Brioso)
Friday, July 15th: Vinewood Downhill (Motorcycles)
Saturday, July 16th: Racing Alley (Sports)
Sunday, July 17th: Canyon Crossing (Super)
Monday, July 18th: Turbine (Off-road)
This new update will bring 13 new vehicles to the game. Below are the list of cars and its pricing:
Super
Emperor ETR1, Kronos $1,995,000
Progen Tyrus, Fukaru $2,550,000
Annis RE-7B, Pegasus $2,475,000
Sports
Obey Omnis, Retro $701,000
Lampadati Tropos Rallye, Stronzo $816,000
Compact
Grotti Brioso R/A, Sprunk $155,000
Off-Road
Vapid Trophy Truck, Western Motorcycle $550,000
Vapid Desert Raid, Badger $695,000
Motorcycle
Nagasaki BF400, Sprunk $95,000
Western Gargoyle, Vintage $120,000
Muscle
Declasse Burger Shot Stallion (Free)
Vapid Pisswasser Dominator (Free)
Bravado Redwood Gauntlet (Free)
Muscle cars are free for returning players, so players who return to the game will get a little incentive.
Apart from the above mentioned cars, some Reddit users have also discovered following cars to be in the update, though it was not present in the present update. So, there are high chances that Rockstar might give access to the vehicles below soon:
Declasse Tampa, Hayes
Ocelot Lynx, Whiz
Western Cliffhanger, Power Metal
Rally Brickade, Fukaru
MTL Contender
Apart from the cars, players will also be treated to race-themed fashions like racing jerseys, racing gear and stuntman suit. The game is also offering players with 50 new tattoos and lots of new features from new helmet visor animations to a re-tooled Player Interaction Menu.
The game also includes event week bonuses, starting July 12 to 18.
New items to be added to Stunt Race Creator on Aug. 2
"GTA 5 Online" players will see the addition of new items to the Stunt Race Creator from Aug. 2. This will include hundreds of Stunt Props, new features and improvements for your custom Races.