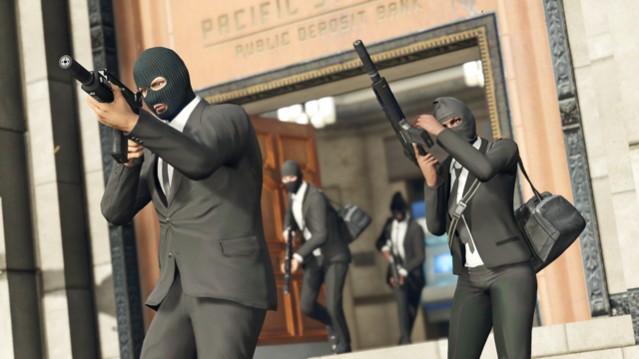 The popularity and success of GTA 5 Online is unparalleled. Players waiting for Rockstar to deliver Heists update have finally got the promised update and now new rumours are surfacing that hint at a new Casino DLC that could eventually roll out for GTA 5 players.
The demand for Casino DLC has created a frenzy among gamers and there have been hints from the game's source code that suggest the possibility of Casino DLC releasing for GTA 5 Online.
Twitter Leakster Funmw2 has been dwelling on the subject of Casino DLC by providing us with leaked information on what the DLC could possibly hold. Funmw2 & CaughtCrash recently tweeted that the code 1.14 consisted 4 Minigames, Blackjack, Poker, Roulette, Slot for Casino DLC. These revelations have kept players in a state of excitement; interest in the Casino DLC seems to be increasing exponentially.
Funmw2 further cleared the air by disclosing that it could be a single player's DLC. However, since nothing is official, we can only speculate on this piece of information.
Can't wait. pic.twitter.com/UThNh7iGz7

— Funmw2 & CaughtCrash (@funmw4) March 19, 2015
Remember 1.14 coding ? 4 Minigames coming with casino. Blackjack, Poker, Roulette, Slot anim@mini@poker@dealer anim@mini@roulette@dealer — Funmw2 & CaughtCrash (@funmw4) March 18, 2015
Funmw2 collected this information from the leaked 1.14 game files for GTA Online.
Meanwhile Funmw2 also revealed that Rockstar Games is also adding control indicator lights for Vehicles in GTA 5 PC.
Future GTA Locations, Heist Episodes, Best Heist Vehicle
YouTube user MrBossFTW conducted a Q & A for his fans and has come up with a new game location for the next GTA: GTA 6. He hinted at Atlanta, Chicago, Dallas or cities from Spain, Canada or other cities in Europe.
To a question on where the future Heist episodes could be located, the YouTube user noted it could be Casino DLC, FIB building and IAA building, Maze bank arena or Maze bank building.
MrBossFTW went on to answer that the best is Heavy Insurgent.
Money Glitch after Patch
Another YouTube user TwoDynamic has shared a video that shows a money glitch in GTA 5 Online following the update 1.24.
Go into a random online session and get a friend to join and start up a closed friends session.
Now ask him to invite you 5-6 times.
Now accept the invitation that will spawn you into the closed friend's session.
Now get one of your cars impounded by the cops and let them kill you.
You and your friend must meet at the front of your garage.
Players have to duplicate friend's vehicle and store it in the garage. Use the vehicle with the most upgrades.
Park it in such a way near your garage that the passenger side door is blocked.
When players try to enter the vehicle they will be teleport inside it.
Now enter the garage.
Now ask your friend to load up any job in the job list and get him to host/load the game.
Now as he waits, you have to get into a vehicle that you do not want.
This unwanted vehicle will be exchanged with your friend's vehicle that is waiting outside.
Now sit inside the vehicle
Next press the Home button > go to Notification tab – remember when your friend sent 5-6 invites? Now accept one of those invites which has not yet been accepted.
But as players get spawned back into the game, they have to be prepared to accelerate by pressing R1 or R2 button via the controller.
If you do this the right way, players will get – "Leave Garage with vehicle?..." message.
Now wait for 20-30 seconds.
Co-ordinate with your friend. He is sitting the job lobby and you have the above message on the screen.
Now ask your friend to quit from the job lobby and at the same time you must start hitting the A or X button. This will generate three alert messages.
This will teleport you to a invisible vehicle.
Now hop out of the vehicle by pressing Y or Triangle. Next press Y or Triangle again to enter your friend's personal vehicle in the passenger side.
Wait for 15 to 20 seconds. This will glitch the car and you will be teleported back to the front of the car.
Now players will be in the front seat – on the driver's seat of the vehicle.
Now you can turn and drive the vehicle into the garage.
Now players can sell this in Los Santos Customs and make some extra moolah.
Servers Fixed
Many players had reported an issue that has affected them, with some loosing connection. Note that there was a scheduled maintenance work from Rockstar.
Funmw2 has said that issue has been resolved. "'Your profile does not have permission to access GTA Online' has now been fixed on the servers for most."
Others seem to be affected by the following issues:
Is this really what I'm paying for @RockstarGames @RockstarSupport? This is all i really see #GTA5 #PS4share pic.twitter.com/p0ZGbcrZGn

— ↯D'Zappa↯™ (@KingRappaDZappa) March 23, 2015
Hello, no missions shows up under the mission tab and I'm in level 123. Wtf.. @RockstarSupport — MorganGames (@MorganGamesYT) March 22, 2015
And here is a funny one from Rockstar Support who said they will be ready to help with the issue of GTA 5 PC getting stuck while loading, when the reality is the PC version has not yet been released.
@funmw4 We would be happy to look into that. Please submit a ticket here and we will help: http://t.co/iLlf5bQefU *JA

— Rockstar Support (@RockstarSupport) March 20, 2015