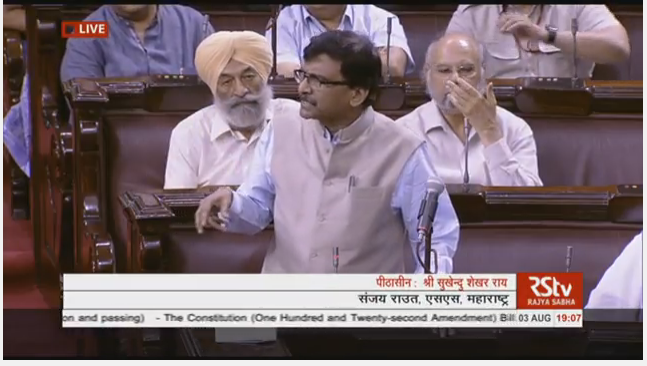 Unlike his low-profile colleague Anil Desai, Shiv Sena Rajya Sabha MP Sanjay Raut accused the Narendra Modi government of trying to deprive Mumbai of its Rs. 7,000 crore annual revenue by implementing the Goods and Services Tax (GST) Bill. He demanded special status for the city.
The GST, once implemented, would subsume all indirect taxes, including octroi, Mumbai civic body's main cash cow. The Brihamumbai Corporation (BMC) earns about Rs. 7,000 crore through its four check-posts, according to Raut.
"Are you trying to weaken Mumbai by depriving it of its revenue? Mumbai will suffer because of it since it won't be able to spend on healthcare services. Should the city (BMC) come to you (the Central government) with a begging bowl for money?" asked Raut.
"You should give Mumbai special status," Raut demanded.
Raut's long-winding speech was frequently interrupted by the Chair, to which the Shiv Sena's response was strange. "This is my maiden speech, please don't interrupt me," he said.
He also raised the question of security as the octroi check-posts will be removed. "Earlier Ajmal Kasab came through sea route, now the likes of Kasab would enter the city unhindered, unchecked," Raut alleged.
The BMC, which will be going to polls next year, is considered Asia's richest municipal body, given its annual budget of about Rs. 35,000 crore.
The BJP and the Shiv Sena together control the BMC, with Shiv Sena having 82 seats and the BJP 33 councillors in the 227 member BMC.
Raut's colleague Anil Desai also spoke of Mumbai losing out because of the implementation of the GST Bill but was rather polite in his speech.
The debate was still going after Raut's speech, with Anand Sharma of Congress taking on the BJP, especially PM Narendra Modi, who had opposed the GST Bill when he was the chief minister of Gujarat.
"CM Modi PM Modi ban gaye, aur soch, unki parikalpana badal gay (Chief Minister Modi became PM Modi and his thinking and perception of the Bill also changed)," Sharma said in his speech.