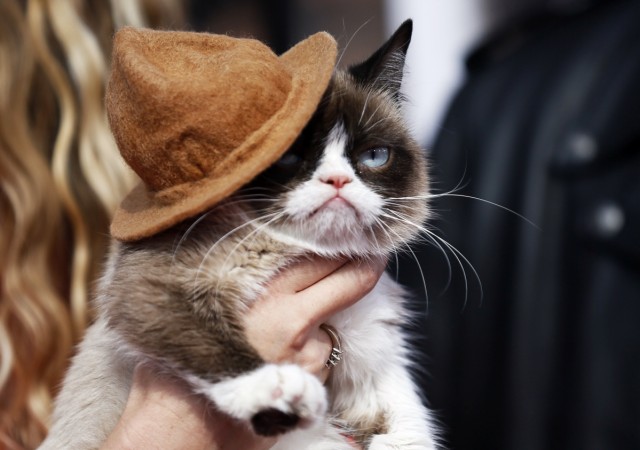 Speculation on if Tardar Sauce, the feline popularly known as Grumpy Cat, was alive stormed micro-blogging site Twitter Monday after David Weiner, a Digg editor-at-large, posted on Twitter a query on whether the cat was dead.
"Is Grumpy Cat dead? I'm not happy I'm asking this question, but here I am, asking it," Weiner wrote, sending fans of the cat into frenzy. Many thought the feline was already dead and took to social networking sites to express their condolences. However, it was soon revealed to be a death hoax.
Grumpy Cat's manager Ben Lashes denied claims she died and said in an email to International Business Times Monday that the rumour was started by pranksters. "I'm happy to say these are just hoax rumors going around that I believe were started by Twitter pranksters," he said. "Grumpy Cat is at home right now playing with her brother Pokey and trying to stay grumpy on #NationalPetDay."
Sadly, this is not Tardar Sauce's first association with death hoaxes. In 2013, YouTube channel SourceFed managed to fool viewers into thinking the feline died after it aired a convincing news segment mourning the cat's death. However, it was soon proved to be an April Fools' joke.
Tardar Sauce celebrated her fourth birthday April 4. Her permanently grumpy-looking expression is due to an underbite and feline dwarfism.
Here are a few Twitter reactions to news of Grumpy Cat's death.
I saw the Twitter news thing was grumpy cat and I thought "if grumpy cat is dead I'm gonna kill myself" #NationalPetDay

— violet graves (@violetgraves_) April 11, 2016
Don't let drama get to you instead think about the fact that beloved grumpy cat is apparently dead :( — Sheenaaah (@Sheena_McG) April 11, 2016
WHO STARTED THE RUMOR THAT GRUMPY CAT WAS DEAD. I ALMOST HAD A HEART ATTACK :(

— blake (@BlakeMangini) April 12, 2016