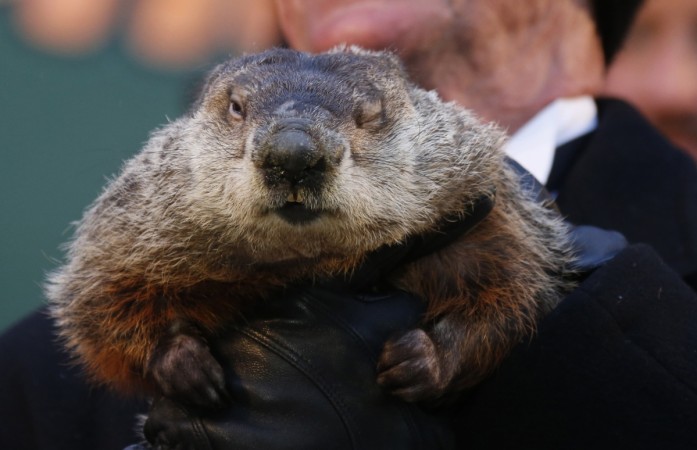 New York City Mayor Bill de Blasio is being blamed for inadvertently killing a prognosticating groundhog in the Staten Island Zoo after a report on Thursday showed the rodent had died a week after the Mayor dropped it from his hands in February.
The incident took place on the Groundhog Day, which is very popular among Americans. The New York event, held in the borough of Staten Island, was an offshoot of a Pennsylvania tradition, in which officials pull a groundhog known as Punxsutawney Phil out of hibernation every 2 February.
On that day, a rodent appears out of its burrow and predicts whether the winter is going to continue or there will be an early spring. According to folklore, if the groundhog sees its own shadow, the rodent has predicted six more weeks of winter. The same prediction was made for this year too.
But the dead rodent, which predicted six more weeks of winter for North America before tumbling down several feet from the Mayor's hands, was not the zoo's famed Staten Island 'Chuck', but rather a stand-in named 'Charlotte.'
The zoo did not notify the mayor's office of the groundhog's death following the faux pas, which was first reported by the New York Post. Charlotte's death, which exploded on social media and sparked the hash tags #groundhoghazi and #groundhoggate, also triggered a debate on whether the zoo must allow the regular tradition of letting the Mayor hold the groundhog.
"It was an accident, a botch, a bumble, a fumble," zoo spokesman Brian Morris told the newspaper before denying that not informing the mayor's office about the rodent's death was problematic.
"There are 1,500 animals here (that) routinely die for a variety of reasons. We do not notify the public about every single death that comes up, we just don't do it," he said.
This year, the NYC Mayor had held the groundhog with heavy work gloves apparently as a precaution taken after another rodent in the zoo had bit Blasio's predecessor Mayor Michael Bloomberg in 2009.
The groundhog had been in his hand briefly before it squirmed off and fell several feet onto the ground.
"Her shadow was one of the last things she saw." #groundhogGate http://t.co/ZubkQeVD6j pic.twitter.com/jXbgsxktah

— Adam Goldstein (@A_H_Goldstein) September 25, 2014
"Hush Hush Sweet Charlotte" says Hizzoner The last thing she saw was her own shadow. RIP furry little thing #GroundhogGate — Sandi Bachom (@sandibachom) September 25, 2014