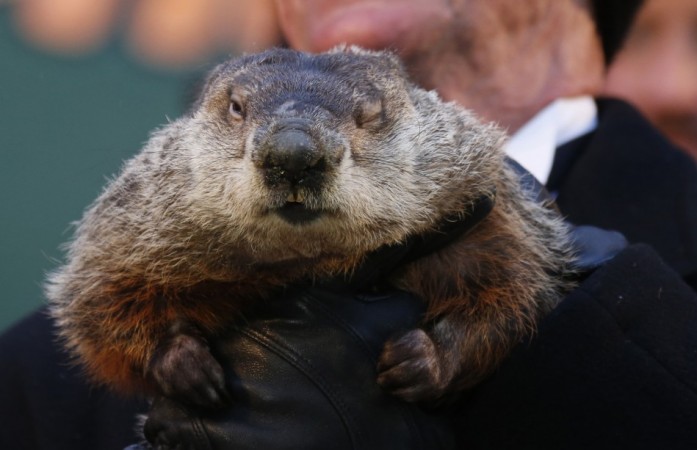 So what did Punxsutawney Phil say on his Groundhog Day 2015 prediction?
Well, the most famous prognosticating rodent on earth just saw his own shadow and like last year, has predicted six more weeks of winter for the United States.

The famous rodent came out of its comfy burrow and saw his own shadow just around 7:15am local time - an indication that the harsh winter will last for another one and half months, much to the disappointment of Americans.
Phil made his weather prediction in front of thousands of enthusiastic onlookers at Gobbler's Knob in the tiny western Pennsylvania town of Punxsutawney, which is located some 56 miles northeast of Pittsburgh.
People, dressed in thick clothing, withstood the harsh sub-zero temperatures in the pre-dawn event before the rodent popped up from his burrow.
The bizarre yet widely accepted folklore associated with the day claims that if the giant squirrel comes out of his burrow and sees his own shadow, he has predicted another six weeks of harsh winter. However, if he doesn't see his shadow, he has just given North America a pleasant early spring.
This day (2 February) when the quirky animal makes his famous prognostication is known as the "Groundhog Day" in the United States and Canada.
The famous rodent, thanks to his amazing talent, is also known by various other interesting names such as Seer of Seers, Prognosticator of Prognosticators, Sage of Sages and Weather Prophet Extraordinary, the Pennlive.com website notes.
Weather predictions said that the morning of Groundhog Day would see a very cold day overcast with clouds and some snow.
According to scientific data, the entire saga about the rodent's prognosticating abilities are nothing more than simply a way of celebrating folklore, and there is no actual correlation between changes in the weather pattern and Phil's prognostication.
In the previous years, the National Climatic Data Center had described the rodent's forecasts as inaccurate, adding that it had shown no talent in "predicting the arrival of spring, especially in the recent years."
The Groundhog Day organisers, however, claim that the animal is accurate in its prediction about 75-90% of the time.