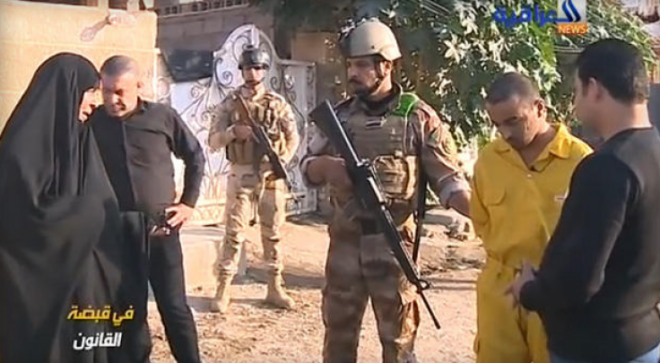 The state-run Iraqiyya TV is filming a reality show that will have several arrested ISIS terrorists being confronted by their victims.
Titled "In the Grip of the Law," the show is an attempt by the Iraqi government to boost confidence of the general public on Iraq's security forces following their defeat to the Islamic State (ISIS) militants last summer.
Haider Ali Motar, a convicted ISIS terrorist, who assisted the group in carrying out a string of car bombings in Baghdad is one such reluctant cast of the reality TV show. On a wintry overcast day last week, heavily armed escort in eight military pick-up trucks and army vehicles brought Motar to one of his bombing locations.
After being pulled out of an armoured vehicle, a shackled Motar found himself face-to-face with the seething relatives of the victims of the attack. "Give him to me — I'll tear him to pieces," one of the relatives roared from behind a barbed wire barrier, reported the Associated Press.
Motar in his yellow prison jumpsuit and shackles remained mute with his head down. But when the show's host Ahmed Hassan introduced a man on a wheelchair who lost his father in one of Motar's attacks, Motar began weeping.
"We wanted to produce a programme that offers clear and conclusive evidence, with the complete story, presented and shown to Iraqi audiences. Through surveillance videos, we show how the accused parked the car, how he blew it up, how he carries out an assassination," Hassan told AP.
The show highlights how the perpetrators are brought to justice by the security forces.
"We show our audiences the pictures, along with hard evidence, to leave no doubts that this person is a criminal and paying for his crimes," said Hassan.
However, the human rights groups have criticised the show. Donatella Rovera of Amnesty International said: "The justice system is so flawed and the rights of detainees, especially those accused of terrorism (but not only) are so routinely violated that it is virtually impossible to be confident that they would be able to speak freely.
"In recent months, which I have spent in Iraq, virtually every family I have met who has a relative detained has complained that they do not have access to them, and the same is true for lawyers."
But the Iraqi security officials insist that the show makes "terrorists feel a lot of remorse when they see the victims. When people see that, it makes them think twice about crossing the law."