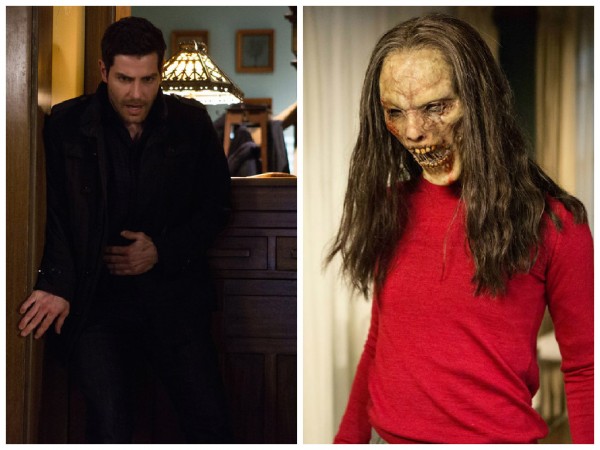 After Kelly Kessler Burkhardt's (Mary Elizabeth Mastrantonio) death in the penultimate episode of "Grimm" season 4, fans are concerned about Nick Burkhardt (David Giuntoli) and Juliette Silverton's (Bitsie Tulloch) future in the finale titled "Cry Havoc".
The official synopsis of the next sequel, which will be live streamed on NBC this Friday at 8pm, states that the detective is hell-bent on seeking revenge and taking the fight to the Royals with help from Theresa "Trubel" Rubel (Jacqueline Toboni).
The trailer shows the veterinarian saying 'Goodbye Nick' and turning herself into a hexenbiest to kill her partner. So, Grimmsters are waiting to watch a death in episode 22; they predict it could either be protagonist Juliette Silverton or Adalind Schade (Claire Coffee).
Some of the viewers hoped for the death of Juliette and their messages ranged from "I really hope Juliette dies", "Please do away with Juliette already", to "I hope that nick will vulgor and rip off Juliette 's head." Others believed that Coffee's character has exchanged herself with the veterinarian to take revenge on Giuntoli's character.
"I believe that somehow Juliette and Adalind have made a switch, at least partially. They've both been acting so far out of character. Adalind being so concerned about helping Juliette, and so easily willing to subdue her own Hexenbiest. Juliette being so cold-blooded and ruthless. Those personality changes just don't ring true, especially after Juliette's personal sacrifice for Nick last season. Also, remember how Adalind and Juliette were picking up on each other when Adalind was imprisoned and having hallucinations? My theory is somehow, they are connected and acting out accordingly," wrote a follower of "Grimm" on Facebook.
In the meantime, there are a few waiting for Kelly and Kenneth to unfold their plans to strengthen the detective to fight against Captain Sean Renard (Sasha Roiz) and take revenge on the Royals.
Grimmsters also predicted the death of former Hexenbiest, saying, "When Juliette dies, it is really Adeline who dies, and the 'real' & still pregnant Juliette comes back into Adeline's body."